Grab the kids, grab the snacks, and leave the house!
Date:
Saturday, September 26
Time:
4:00 p.m. - 10:00 p.m.
Location:
Seymour Ball Club, 6500 Tower Dr, Eau Claire, WI 54703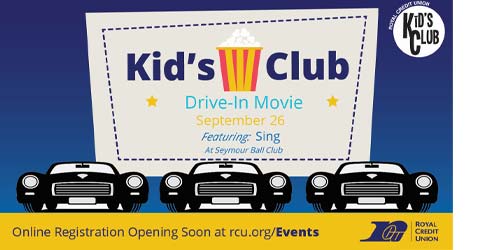 Grab the kids, grab the snacks, and leave the house! This exclusive event is for Royal Credit Union Kid's Club Member families only. Join us at the Seymour Ball Club for a drive-in showing of Sing. This has been a summer like never before, so come enjoy some safe and fun family time with us! Feel free to bring your families favorite snacks and beverages to enjoy during the show. (on-site concessions will not be available).
Please register for a vehicle pass and for each individual that will be in the vehicle. Parking is limited to 50 cars per showing but up to 5 people can be in each vehicle. Parking will be based on the size of each vehicle, not on arrival time. Parking spaces allow for lawn chair seating in front of vehicles, please bring your own chairs if you choose to sit outside. Because of the current health environment guidelines for the events are being established as each event opens. We are looking at the most current guidelines set by local Health Departments and will abide by them. Movies will be viewed on a large video wall and concert sound will be delivered in full sound.
Registration will open on 9/8/2020 at 8 a.m.