Spring Shred Days Postponed
Since 2007, Royal Credit Union has been hosting free Shred Days events every spring and fall in the communities we serve. We know our Members look forward to these events each year, but due to the complex situation surrounding the COVID-19 pandemic and the level of interaction that takes place at these events, we have made the decision to postpone our spring Shred Days. Please know that we will be rescheduling these events as soon as we can.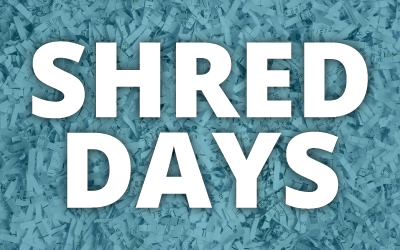 Identity theft is one of the fastest-growing crimes in America. These Shred Days events are a great opportunity for Members and the general public to securely dispose of confidential documents and other items to take preventive action against identity theft. Shred Days events accept personal records, bills, books, bound paper, brochures, envelopes, file folders, CDs, and floppy disks. In order to serve as many people as possible, we ask that each household bring a maximum of two file-sized boxes to a shred event.
We take identity theft prevention seriously at Royal Credit Union. In fact, last year we held a total of twelve Shred Days events at our offices. Last year we assisted community members in shredding over 48,000 pounds of personal materials! We take pride in being there to help you safely shred your confidential information, and we will be here to serve you again at Shred Days events as soon as we can.