Paycheck Protection Program Loan Forgiveness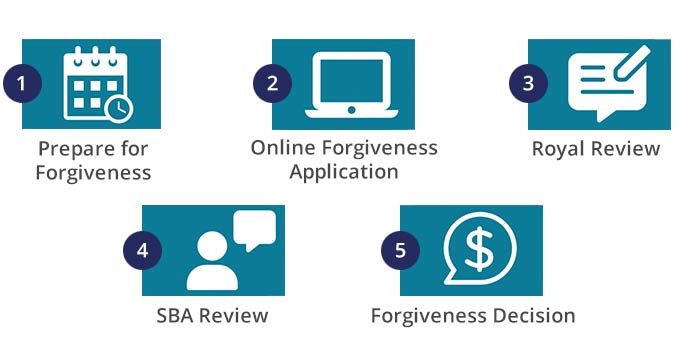 PPP Loan Forgiveness Summary
PPP loans may be partially or completely forgiven if you meet certain Small Business Administration conditions.

In general, First Draw and Second Draw PPP loans made to eligible borrowers qualify for full forgiveness is during the 8- to 24-week covered period following disbursement:

Employee and compensation levels are maintained
The loan proceeds are spent on payroll costs and other eligible expenses; and
At least 60 percent of the proceeds are spent on payroll costs

If you received your PPP loan through Royal, you will need to apply for forgiveness with Royal.
Royal will follow SBA guidance available at the time of submission to determine the forgivable amount.
Preparing To Apply?
Please follow the steps below to help prepare for your online forgiveness application with Royal Credit Union.
Step 1: Choose the forgiveness form that applies to your business.
There are three versions of the PPP Loan Forgiveness Applications and Instructions. We've included basic info about each form below, along with links to the forms and instructions for your reference. For more details about who can use which form, see our guide to choosing a PPP forgiveness form.
"S" Form: The "S" form is the simplest forgiveness form with the fewest calculations and least amount of documentation. Almost anyone with a total PPP loan amount of $150,000 or less can use the "S" form.
"EZ" Form: If you don't qualify to use the "S" form, you may be able to use the "EZ" form, which is another simplified form with fewer calculations than the "full" form.
"Full" Form: If you don't qualify to use the "S" or "EZ" forms, you'll need to use the "full" form. This form requires more calculations and documentation, but it can be used for all PPP situations.
Step 2: Decide the best time to apply, determine your covered period, and gather required documents.
Your business should carefully choose when to apply for forgiveness. Selecting the best timing for your business could help maximize the amount of any forgiveness.
Your loan forgiveness application will be subject to the rules in effect at the time you submit your application.
If needed, please consult with your accountant or financial advisor to determine if you should apply for forgiveness or wait.
The Covered Period begins on the date your loan originated and ends on the date of your choosing that is between 8 and 24 weeks after origination. Choosing an appropriate Covered Period will allow ample time to use PPP loan funds for eligible costs. It may also reduce the amount of documentation that you need to gather and submit. For example, if you have enough payroll costs to cover the full amount of loan forgiveness, you wouldn't need to provide non-payroll documentation.
Your accountant or financial advisor may be a valuable resource in choosing the best Covered Period for your business.
Review the instructions for the Form you plan to use to determine what documentation you will need to submit.

Documentation will need to be submitted for EACH item in the Payroll and Non-Payroll categories for ONLY the items that you are requesting forgiveness for.
If you choose the full form 3508, FTE documentation is also required.

For more details about what documentation is required, see our PPP Loan Forgiveness Documentation Requirements page.
Step 3: Complete a "draft" of the Forgiveness Application.
Download a fillable copy of the Form you plan to use and complete it as a "draft" to prepare to transfer your information to Royal's online forgiveness forms.
This will help maximize your loan forgiveness amount and help ensure timely review by Royal and the SBA.
Royal Credit Union is not able to complete or prepare your loan forgiveness application.
Royal will accept applications only through our online process.
Step 4: Do you have questions about the PPP loan forgiveness application process?
Ready To Apply?
What To Expect During The Forgiveness Process
Here is an overview of what to expect during our PPP loan forgiveness process. We will provide updates throughout the process by email.
If you have a PPP loan with Royal Credit Union, you will receive an email notification that our online forgiveness application is available.
You will request access to Royal's forgiveness application using the Apply Now link on this page.
We will verify your information to confirm that you are eligible to begin a forgiveness application with Royal.
Once your eligibility is confirmed, we will email you links to our online forgiveness forms.
You will fill in the required information and upload all necessary documents to complete our online application.
We review your application and contact you if any revisions need to be made or any documents are missing. This process may take up to 60 days after we receive your completed application, although we are doing everything we can to process applications as efficiently and accurately as possible.
Once your application is complete, we will submit it to the SBA. The SBA may take up to 90 days to review your application.
Once the SBA communicates their decision for your application to Royal, we will contact you within 5 business days with next steps depending on if your loan was fully forgiven, partially forgiven, or denied.
Paycheck Protection Program Loan Forgiveness FAQs