Royal Credit Union is gradually making contactless debit cards available to our Members! Any new personal or business debit card provided by mail will include contactless functionality. This includes new debit cards for new Members and replacement debit cards for expiring cards. The goal is to begin making the benefits of contactless payments available to our Members over time. Eventually, all Royal Members will receive new contactless cards when their current debit card expires or is reissued.
At this time, Royal is not able to issue contactless cards at our offices. When a non-contactless card expires, you will receive a card that includes contactless functionality in the mail.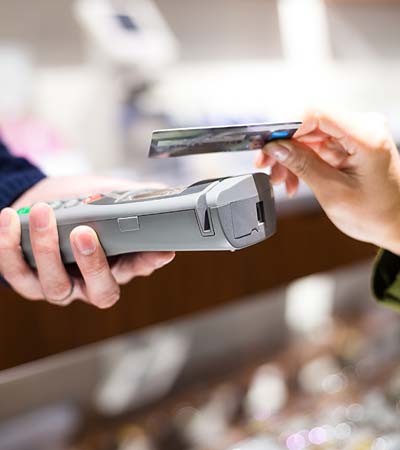 About Contactless Cards
Contactless payment cards use short-range wireless technology to make secure payments between a contactless card and a contactless-enabled terminal. This provides the ability to tap to pay! When you use a contactless card, you won't need to swipe, dip, or insert your card.
To determine if you have a contactless card, look for the four arc contactless symbol printed on your card.
You can use contactless cards at millions of locations worldwide. Closer to home, about three out of four purchases in Minnesota and Wisconsin are made at checkout terminals that can accept contactless payments, and this number is expected to increase over time.
All Royal contactless cards will still have a magnetic stripe and EMV chip, so the card can continue to be used at places without contactless options.
Contactless Card Benefits
Fast – when you tap to pay, it takes just seconds. Tapping is faster than using cash!
Easy – Since you only tap or hover your card near the terminal, the process is smooth and easy with fewer surfaces to touch.
Secure – Contactless technology uses the same trusted security features as chip cards. Dynamic data for each transaction protects your information.
How To Use A Contactless Card
To use a contactless card, once the terminal is ready to accept payment, hold the card one to two inches above the contactless symbol on the terminal for one to two seconds. The terminal will show some type of acceptance indicator by displaying a message, flashing a light, or playing a sound. You may still need to enter a PIN for certain transactions depending on the merchant. You do not need to physically tap the card against the terminal. Transactions work best with the card held flat over the contactless spot on the terminal.
Remember that if you prefer not to use the contactless feature of your card, it still includes a magnetic stripe and chip to work by swiping or inserting it into a terminal.
Contactless Card Security Myths
Let's dispel some common myths around contactless cards and security.
You can't make a purchase by accident. The merchant must initiate the payment and your card must be within a few inches of the checkout to authorize the transaction.
You can't be charged twice by accident. Contactless cards use dynamic data that changes for every transaction, so you would not be charged twice for the same transaction.
You can't accidentally pay with multiple contactless cards. The checkout terminal can only communicate with one card at a time. If you have more than one contactless card, simply use one individual card at the terminal rather than holding your entire wallet near it.
Contactless cards are just as secure as chip cards. It is extremely unlikely that someone would have specialized skimming technology and be near your card for a long period of time, making it very improbable that someone could compromise your card information. Because contactless cards use dynamic data, it is also very difficult for someone to use skimmed card information for future fraud.
You do not need a special wallet or protective sleeve. You can keep your contactless card secure with all the other cards in your wallet.
Contactless cards do not track your location. The contactless feature on your card is not a locator system. It is intended to enhance the checkout experience.