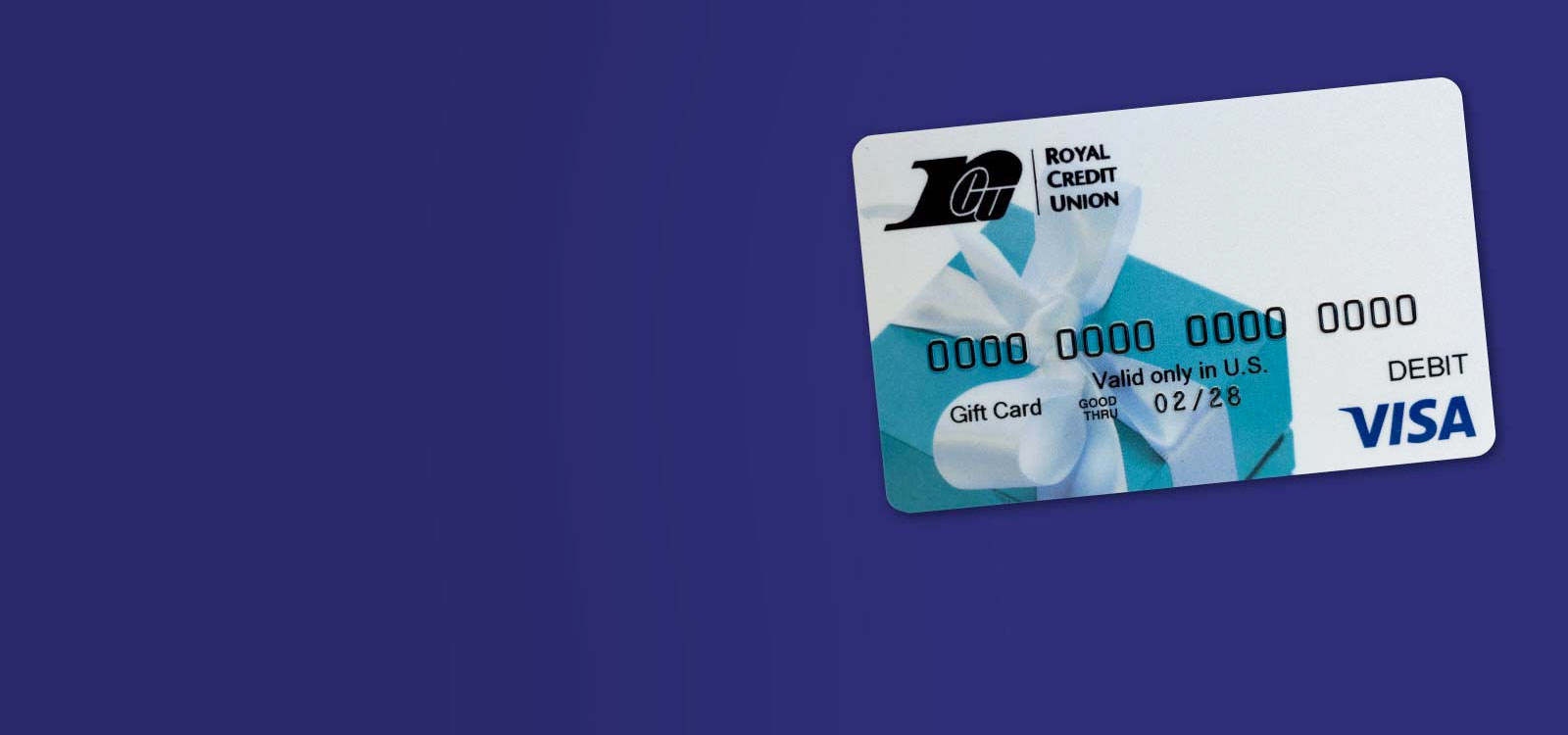 Use Your Royal Debit Card To Enter The Royalty™ 100 Winner Giveaway!
100 lucky winners will each get a $50 prepaid Visa® gift card!
Using your Royal Credit Union debit card comes with all kinds of cool perks, like real-time alerts for transactions and built-in fraud monitoring. It also helps us give back to your community, as up to 5 cents of every transaction goes to our nonprofit RCU Foundation to support the arts, education, and health in the places where you live, work, and play.
Enter Our 100 Winner Giveaway
As a way to reward our loyal Members for using their Royal debit cards, we're giving 100 lucky winners a $50 gift card! To enter the giveaway, all you need to do is use your Royal debit card.
Every purchase transaction made with a Royal debit card counts as one entry into the giveaway, including:
Swiping your card
Inserting your card's chip
Tapping your digital wallet with a connected Royal debit card
Completing an online transaction using your Royal card number.
The more you use your Royal debit card, the more chances you'll have to win! The full giveaway rules can be found below.
If you don't have a Royal debit card yet, getting one is easy! Open a Royal checking account online and your new debit card will be mailed to you, or open a checking account at any office and you can get your new debit card the same day!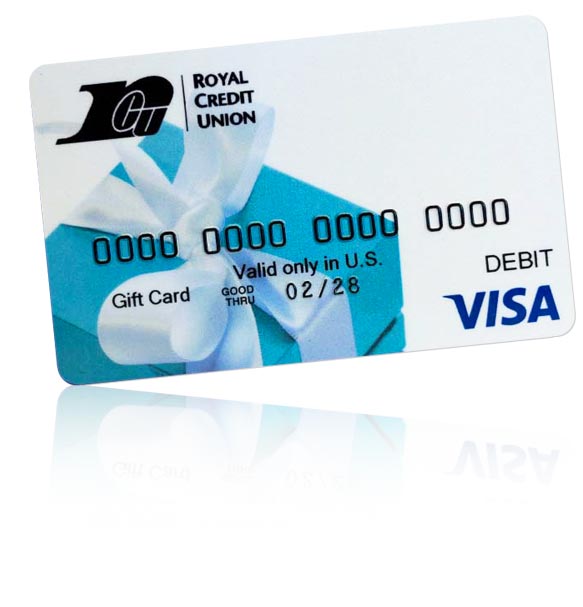 Debit Card Spotlight
Don't underestimate all the things you can do with a Royal Credit Union debit card!
Real-Time Alerts
Get notified right away about account activity with real-time account alerts linked to your debit card.
Freeze Your Card
If your card is lost or stolen, you can freeze it from the Self Service area of online or mobile banking!
Digital Wallet Support
Add your debit card to a digital wallet on your smartphone to make checkouts fast and contactless!
100 Winner Giveaway Official Rules
ELIGIBILITY: No purchase necessary to enter or win. Sweepstakes open to legal U.S. residents who are eighteen years of age or older at the time of entry. Void where prohibited or restricted by law. Royal Credit Union (Royal) team members and Royal board members and their immediate family are not eligible. Immediate family members are defined as spouse/significant other, child, sibling and parent (including "step").
SWEEPSTAKES TIMING: The Royal Credit Union Royalty™ 100 Winner Giveaway sweepstakes begins 4/15/2021, 9:00:01 a.m. Central Standard Time (CST) and ends 6/15/2021, 4:59:59 p.m. CST.
HOW TO ENTER: Every purchase transaction made with a Royal debit card, including swiping the card, inserting the card's chip, tapping your digital wallet with a connected Royal debit card, or completing an online transaction using a Royal debit card number, counts as one entry into the giveaway for the cardholder. Purchase transactions do not include ATM transactions or return credits. Or enter by mail by printing your name, mailing address, phone number, and email address on a 3"x5" paper and sending it to Royal Credit Union Royalty™ 100 Winner Giveaway Entry, Attn: Marketing Department, 200 Riverfront Terrace, Eau Claire, WI 54703. Mail-in entry limited to one per outer envelope postmarked no later than 6/15/2021 and received within 3 days. Entries become the property of Royal and will not be acknowledged or returned. Entries that are incomplete, illegible, damaged, incorrectly addressed, late, lost, misdirected, postage due or corrupted are void and will not be accepted.
DRAWING AND WINNER NOTIFICATION: Winners will be randomly selected from all eligible entries at the end of the contest period. Drawing will be held on or around 6/18/2021 by 5 p.m. CST. Winner need not be present at drawing to win; winner will be contacted via email, mail, or phone within five (5) business days of the drawing date.
PRIZES: One hundred (100) prizes of a $50 prepaid Visa® gift card. Odds of winning depend on the number of entries. If any winner rejects his/her prize, or if a winner is found to be ineligible for any reason, or if a winner is not in compliance with these official rules, or if a prize is not claimed by 7/2/2021, prize will be forfeited.
GENERAL CONDITIONS: If for any reason the Royalty™ 100 Winner Giveaway is not capable of running as planned, including disruptions caused by a computer virus, technology bug, tampering, unauthorized intervention, fraud, technical failure, fire, flood, epidemic, earthquake, explosion, labor dispute or strike, satellite or equipment failure, riot or civil disturbance, war (declared or undeclared), terrorist threat or activity, or any federal, state or local government law, order or regulation, order of any court or jurisdiction, or any other cause that corrupts, affects or compromises the administration, security, fairness, integrity, proper conduct or intended play of the sweepstakes (each a "Force Majeure" event), sweepstakes may be cancelled or terminated. In the event the sweepstakes are cancelled or terminated as a result of a Force Majeure event, Royal reserves the right to select the potential winners in a random drawing from among all eligible entries received up to time of such event. Sweepstakes subject to all federal, state, and local laws, regulations and taxes.
ADDITIONAL TERMS: By entering, entrant agrees to accept and abide by these official rules and agrees that any dispute with regard to the conduct of this sweepstakes, rule interpretation or award of prize, shall be resolved by Royal whose decision shall be binding and final.
By entering, entrant agrees to be notified using the contact information provided in the entrant's Entry for the purposes of the administration of this sweepstakes and for future marketing communications. By participating, entrant agrees to release and hold harmless Royal from any injury, loss or damage to person, including death or property damage due in-whole or in-part, directly or indirectly to the acceptance, use, or misuse of a prize (including any travel/activity related thereto), participation in any sweepstakes-related activity, or participation in the sweepstakes. By accepting a prize, winner grants permission for Royal to use winner's name and likeness for advertising and promotional purposes. No transfer, assignment, or substitution of prizes (or portion thereof) is permitted except by Royal Credit Union due to prize unavailability or other causes determined solely by Royal Credit Union, and then for a prize (or applicable portion thereof) of equal/greater value. Royal Credit Union has the right, in its sole discretion, to cancel or discontinue this contest at any time for any reason.
WINNERS' LIST: To receive the names of the Royal Credit Union Royalty™ 100 Winner Giveaway winners, please send a self-addressed, stamped envelope to be received by 6/19/2021 to: Royal Credit Union Royalty™ 100 Winner Giveaway Winners' List, Attn: Marketing Department, 200 Riverfront Terrace, Eau Claire, WI 54703.
The sweepstakes is administered by Royal Credit Union, 200 Riverfront Terrace, Eau Claire, WI 54703. © 2021 Royal Credit Union