July 10th, 2020
Eau Claire, WI – Royal Credit Union is ranked as the #1 credit union in Wisconsin by Forbes in the 2020 "America's Best-in-State Credit Unions" publication. Forbes partnered with market research firm Statista to produce the third annual best credit union by state ranking. Nearly 25,000 consumers in the US were surveyed for their opinions on their financial relationships. Credit Unions were evaluated on overall recommendations and satisfaction in five key areas: trust, terms and conditions, branch services, digital services and financial advice.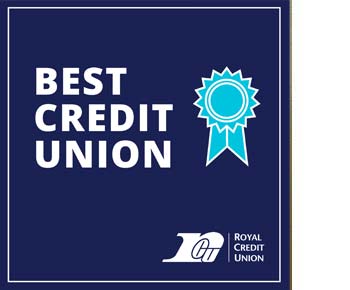 "We are honored to be named by Forbes as one of the best credit unions in America and #1 in Wisconsin," said Brandon Riechers, Royal Credit Union president and CEO. "The key evaluation factors used by Forbes including creating trustworthy relationships and offering sound financial advice are cornerstones of our commitment to our Members. In addition, we recently launched an updated, award-winning website and consistently offer Members access to digital products to provide them easy access to financial services. Credit Unions are known in the marketplace for offering highly competitive rates and exceptional service. We are proud to rank among the best credit unions in the nation and will continue to use our values to guide our decisions as we work to make a positive impact in the communities we serve in Minnesota and Wisconsin."
Royal is a $2.8 billion credit union serving over 220,000 Members. Royal's field of membership includes 26 counties in Wisconsin and 16 counties in Minnesota. There are more than 5,200 credit unions with 120 million Members across the US. Forbes noted that Member-owned credit unions typically have lower fees and offer better interest rates than traditional banks.
At Royal, Members have access to a full suite of deposit accounts and lending services to meet their needs throughout every stage of life. From the moment young adults open their first checking account or first-time homebuyers receive a low interest rate on their home loan, Royal's online and in-office services make it easy for Members to save, spend and borrow. The Royalty® Member loyalty program also provides a variety of exclusive Member perks such as prize giveaways.
In addition, Royal offers a robust financial education program including 29 in-school, student-run credit union branches and several signature youth financial education programs. Over the last year Royal educators have delivered nearly 800 financial education presentations and have reached over 10,000 youth. The credit union also gives back to the community by sponsoring events and activities in the communities it serves.
About Royal Credit Union
Royal Credit Union is a federally insured credit union proudly serving over 220,000 Members in Minnesota and Wisconsin. Royal is driven by a core ideology built on a strong purpose and values. You can open an account or apply for a low-rate loan at Royal Credit Union if you live or work in 26 counties in western Wisconsin or 16 counties in Minnesota. Counties served in Wisconsin include Adams, Ashland, Bayfield, Barron, Buffalo, Burnett, Chippewa, Clark, Douglas, Dunn, Eau Claire, Jackson, Lincoln, Marathon, Pepin, Pierce, Polk, Portage, Price, Rusk, Sawyer, St. Croix, Taylor, Trempealeau, Washburn, and Wood. Counties served in Minnesota include Anoka, Carver, Chisago, Dakota, Goodhue, Hennepin, Isanti, Olmsted, Pine, Ramsey, Scott, Sherburne, Wabasha, Washington, Winona and Wright. Realtors in the state of Wisconsin or Minnesota are also eligible to join the credit union. Visit rcu.org or call Royal Credit Union at 800-341-9911 for more information.