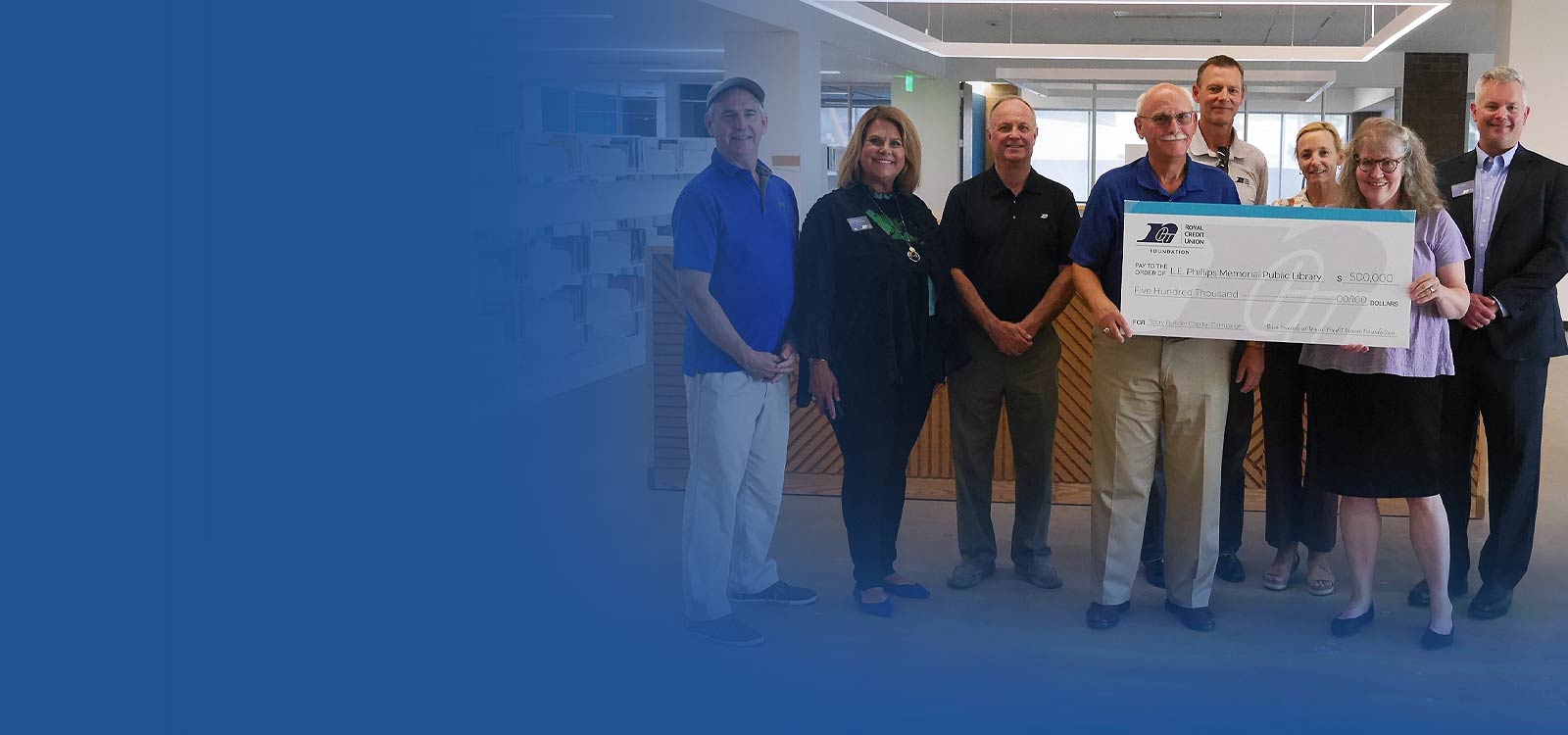 RCU Foundation
Our nonprofit foundation has given more than $8 million to support organizations and initiatives in our communities
Phone: 800-341-9911
Email: foundation@rcu.org
The RCU Foundation is a perfect example of how we are striving to live out our core purpose of creating a positive impact in the lives we touch. The Foundation awards grant funds to organizations in the communities Royal serves across Western Wisconsin and Eastern Minnesota. Since it began in 2012, the RCU Foundation has given more than $8 million to our communities.
Get connected and hear about projects in our communities and foundation events.
---
Give Now
You can help us create a positive impact with your gift to the Foundation. A full 100% of your tax-deductible gift will go directly to initiatives in our communities.
Request Support
You may also request the support of the RCU Foundation. We are currently considering requests for capital projects impacting the arts, education, and health. Applications for support are reviewed twice a year on the following schedule:
| | | |
| --- | --- | --- |
| Complete Application Received | March 1 | Sept. 1 |
| Decision Timeframe (anticipated) | June | Dec. |
| Application Review | April | Oct. |
Requests are carefully evaluated on several criteria, including:
Demonstrated need and community benefit
Geographic focus on areas that Royal serves, especially near office locations
Significance and impact, especially the total number of people that will benefit
Organization or initiative capacity and credibility
Future sustainability and plan for ongoing expenses
Demonstrated financial support from a variety of sources, with the RCU Foundation not the largest or sole source of project funding
The Foundation does not support direct grants to individuals; trips or travel; religious organizations for religious purposes; athletic facilities; sports team sponsorships; personnel or staffing costs; programming or operating expenses; or initiatives outside areas served by Royal
Recent Awards
2022
2021
2020
2019
Friends of Willow River and Kinnickinnic State Parks, Hudson, WI, $250,000* - Watch their story
Chippewa Valley Free Clinic, Eau Claire, $25,000
Stepping Stones: Food, Shelter, Support, Menomonie, $15,000
The Open Door Clinic, Chippewa Falls, $7,500
Hmong Mutual Assistance Association, Eau Claire, WI, $25,000
Bais Yaakov High School of the Twin Cities, Minneapolis, MN, $23,500
Feed My People Food Bank, Eau Claire, WI, $125,000*
2018
2017
Mabel Tainter Center for the Arts, Menomonie, WI, $21,000
Colby Community Library, Colby, WI, $175,000*
College of Nursing High-fidelity Mannequin, University of Wisconsin-Eau Claire, $15,000
Feed My People Food Bank, Eau Claire, WI, $15,000
Huey's Hideaway Children's Museum, Medford, WI, $7,500
Boys & Girls Club – Chippewa Falls, WI, $5,000
Girl Scouts of the Northwestern Great Lakes, Camp Nawakwa, Cornell, WI, $34,000 - Watch their story
2016
Discovery Center, Osceola, WI, $250,000*
Sport Court at Osceola Medical Center, WI, $50,000 - Watch their story
Confluence Arts Center, Eau Claire, WI, $1,000,000*
Boys & Girls Club of the Greater Chippewa Valley, Eau Claire, WI, $100,000- Watch their story
YMCA Twin Cities, MN, $36,000*
2015
Discover the Deep Woods at Beaver Creek Reserve Nature Center, Fall Creek, WI, $50,000*
YMCA Camp St. Croix, Hudson, WI, $550,000*- Watch their story
Tri-Angels Universally Accessible Playground, River Falls, WI, $50,000
Rising to Distinction at UW-River Falls, WI: $100,000*
2014
Emergency Department Renovation at Sacred Heart Hospital, Eau Claire, WI, $100,000*
Academic Success Center at Boys & Girls Club of the Greater Chippewa Valley, Eau Claire, WI, $20,000
2012
*Multi-year gift.