Dinoriffic Details:

What: National Credit Union Youth Month

When: All April long!

Where: The comfort of your own home!

Who: Royal Members 12 years old and younger

Other Info: Youth participating in our Facebook contest will be eligible for prizes. Financial education opportunities will also be available.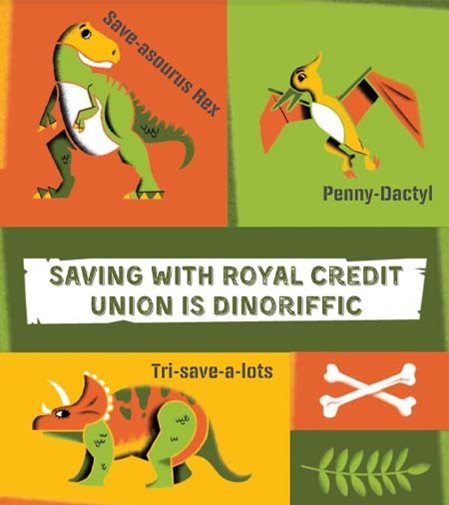 Social Media Contest
Celebrating events virtually has become more and more common over the past year and it allows us all to celebrate from the comfort of our own homes! This year to celebrate National Credit Union Youth Month, we will be posting a dinosaur themed riddle or joke on Tuesdays and Thursdays April 6 through April 29 so that our youth Members can answer for a chance to win! One winner will be chosen from each post, winners will get a prize so make sure to watch our Facebook for detailed instructions!
New Account Incentive
It is never too early to start saving! Open a new Savings Account for children 12 years old or younger and Royal will deposit the initial $5.00 into the account! Kids 12 years old and younger will also be automatically enrolled into Royal Credit Union's Kid's Club and be eligible for exclusive prizes and events. This offer is only valid for new accounts only, one saving account per person is allowed. Offer valid from April 1 to April 30, 2021.
School $ense Classroom Contest
Participating Royal School $ense locations also get to join in the fun! School $ense classrooms will participate in a worksheet competition for a chance to win a basket of rex-cellent goodies for their class!
Promotion of Financial Literacy
Here at Royal we are passionate about financial education at any age, it is never too late to start, but the younger the better! Financial education is an important part of the credit union difference, as we want to set up all Members for success. The theme for this year's National Credit Union Youth Month is "Saving with Royal Credit Union is Dinoriffic". With the help from their dinosaur friends, Save-asourus Rex, Penny-Dactyl, Tri-Save-A-Lots, our young Members will learn about saving, spending, and budgeting.
Getting a head start on financial literacy is essential for young Members so they can be adult Members who are confident in their finances. Royal serves as an ally and resource for parents as they begin to teach their kids financial responsibility and the importance of financial literacy.
If you have been wondering about how to start a conversation about finances with the children in your life, Youth Month is a great place to start! Check out our National Credit Union Youth Month worksheet to get a jump start on financial education. Join Royal along with credit unions across the country this April for fun and educational activities on financial health. Celebrating National Credit Union Youth Month with Royal while developing healthy financial habits will be dinoriffic!