St. Croix Falls, WI – Royal Credit Union hosted a grand opening and ribbon cutting celebration for a new office in St. Croix Falls on February 10, 2020. The office is located at 2175 US HWY 8 and features a full-service lobby, self-service coin machine, drive-up and ATM.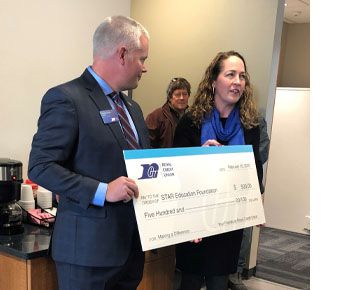 "We had outgrown our previous St. Croix Falls location and needed a larger facility to serve our existing Members and potential new Members, said Brandon Riechers, Royal Credit Union President & CEO. "St Croix Falls is a hub for groceries, shopping, and restaurants and is a destination point for Polk County residents. Royal is pleased to open our new location and is committed to continuing to make a positive impact in the lives we touch in the St. Croix Valley."
The groundbreaking was attended by Falls Chamber of Commerce Vice President Bill Ties, and St. Croix Falls City Council President, Kirk Anderson. Royal's St. Croix Falls Branch Manager Rhonda Anderson emceed the event. Royal worked with River Valley Architects and Hoeft Builders on construction of the facility.
In the spirit of making a difference, Royal donated $500 to the Star Education Foundation of St. Croix Falls. The Star Education Foundation's mission is to enrich student lives and enhance education in an effort to ensure the success of the students. Star Education Foundation board member, Rebecca Berg, accepted the gift and participated in the ribbon cutting ceremony.
The new St. Croix Falls office will feature teller services, new accounts, business services, consumer loans, home loans, investment services, and more. Royal also has a full-service office in Osceola, school site branches in St. Croix Falls and Balsam Lake, and ATMs in the Polk County Government Center and the Polk County Justice Center.
About Royal Credit Union
Royal Credit Union is a federally insured credit union proudly serving over 220,000 Members in Minnesota and Wisconsin. Royal is driven by a core ideology which is built on strong purpose and values. You can open an account or apply for a low-rate loan at Royal Credit Union if you live or work in 26 counties in western Wisconsin or 16 counties in Minnesota. Counties served in Wisconsin include Adams, Ashland, Bayfield, Barron, Buffalo, Burnett, Chippewa, Clark, Douglas, Dunn, Eau Claire, Jackson, Lincoln, Marathon, Pepin, Pierce, Polk, Portage, Price, Rusk, Sawyer, St. Croix, Taylor, Trempealeau, Washburn, and Wood. Counties served in Minnesota include Anoka, Carver, Chisago, Dakota, Goodhue, Hennepin, Isanti, Olmsted, Pine, Ramsey, Scott, Sherburne, Wabasha, Washington, Winona and Wright. Realtors in the state of Wisconsin or Minnesota are also eligible to join the credit union. Visit rcu.org or call Royal Credit Union at 800-341-9911 for more information.