May 9, 2022
INVER GROVE HEIGHTS, Minn. – Royal Credit Union (Royal) announced that its acquisition of the Inver Grove Heights, Minnesota office of Deerwood Bank is complete. The office, located at 7055 Cahill Avenue in Inver Grove Heights, is Deerwood Bank's only facility included in the acquisition. Member accounts were converted May 6-8 and the office opened as Royal Credit Union on May 9, 2022.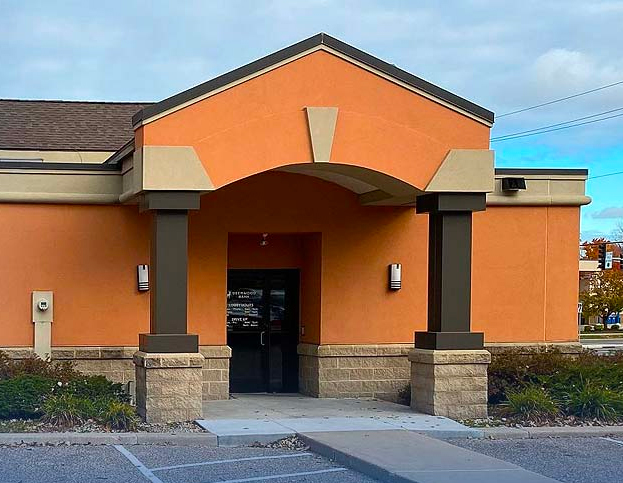 "The acquisition offered Royal the opportunity to bring our values and community involvement to an area of Minnesota that is a logical connection between our current Edina, St. Paul, Apple Valley, and St. Croix Valley offices," said Brandon Riechers, Royal Credit Union President & CEO. "Royal's investment in this new location will expand our ability to serve our Members in Minnesota and will strengthen our commitment as a dynamic community partner and trusted financial."
The lobby of the Royal office in Inver Grove Heights is open 9:00 a.m.-5 p.m. weekdays and by appointment on Saturdays. Drive-up hours will be 8:00 a.m.-5 p.m. weekdays and 9:00 a.m.-12 p.m. Saturdays. A drive-up ATM is also available 24 hours a day. The new Members were mailed a personal welcome guide explaining the transition process and outlining the benefits of being a Royal Credit Union Member.
The grand opening celebration for the office will begin on Tuesday, May 31, 2022. Members are invited to visit the office throughout the week for a special treat and the chance to enter a drawing for large gift baskets. The official ribbon cutting will occur on June 1, 2022.
About Royal Credit Union
Royal Credit Union is a federally insured credit union proudly serving over 250,000 Members in Minnesota and Wisconsin. Royal is driven by a core ideology built on a strong purpose and values. You can open an account or apply for a low-rate loan at Royal Credit Union if you live or work in 26 counties in western Wisconsin or 16 counties in Minnesota. Counties served in Wisconsin include Adams, Ashland, Bayfield, Barron, Buffalo, Burnett, Chippewa, Clark, Douglas, Dunn, Eau Claire, Jackson, Lincoln, Marathon, Pepin, Pierce, Polk, Portage, Price, Rusk, Sawyer, St. Croix, Taylor, Trempealeau, Washburn, and Wood. Counties served in Minnesota include Anoka, Carver, Chisago, Dakota, Goodhue, Hennepin, Isanti, Olmsted, Pine, Ramsey, Scott, Sherburne, Wabasha, Washington, Winona and Wright. Realtors in the state of Wisconsin or Minnesota are also eligible to join the credit union. Visit rcu.org or call Royal Credit Union at 800-341-9911 for more information.