August 12, 2021
Eau Claire, WI – Royal Credit Union (Royal) announced today that it has entered into a definitive agreement to acquire Lake Area Bank in Minnesota. The acquisition will offer Royal the opportunity to enhance office accessibility to its current Minnesota Membership, as well as serve additional Members in the region. Lake Area Bank offices are located in Forest Lake, Hugo, Lindstrom, Stillwater, and White Bear Lake.
Under the terms of the agreement, Royal will assume approximately $500 million in total assets in the transaction. Pending customary closing conditions, including obtaining regulatory approval, the completion of the acquisition is expected to occur in the first quarter of 2022. Royal is committed to a smooth transition for the bank's customers.
"Royal is excited for the opportunity to bring our value proposition and commitment to making a positive impact in the lives we touch to expanded areas in Minnesota," said Brandon Riechers, Royal Credit Union President & CEO. "Lake Area Bank is a family-owned financial institution that has served the community for over 100 years. Royal's values-driven and relationship-based approach to financial management made this acquisition a good fit for our credit union."
Lake Area Bank was established in 1915 in Lindstrom, Minnesota. It is privately owned and insured by the FDIC. Lake Area Bank's core purpose is to make a difference in people's lives and the organization is dedicated to the communities it serves.
"Lake Area Bank is proud of our 100+ year history as a community bank serving customers and our local communities," said Marc Campbell, Lake Area Bank President & CEO. "Royal Credit Union shares our values and commitment to service, and we look forward to providing continued excellent service for many years to come."
Royal has a history of successful growth through mergers and acquisitions. In June, Royal announced plans to merge with Peoples Choice Credit Union in Medford, Wisconsin. In 2016 Royal expanded in the Minnesota market through the acquisition of Deerwood Bank in Apple Valley and Capital Bank in Saint Paul.
Winthrop & Weinstine, P.A. acted as legal advisor and Oakridge Financial Services Group, Inc. acted as financial advisor to Lake Area Bank. Honigman, LLP acted as the legal advisor and McQueen Financial Advisors acted as financial advisor to Royal.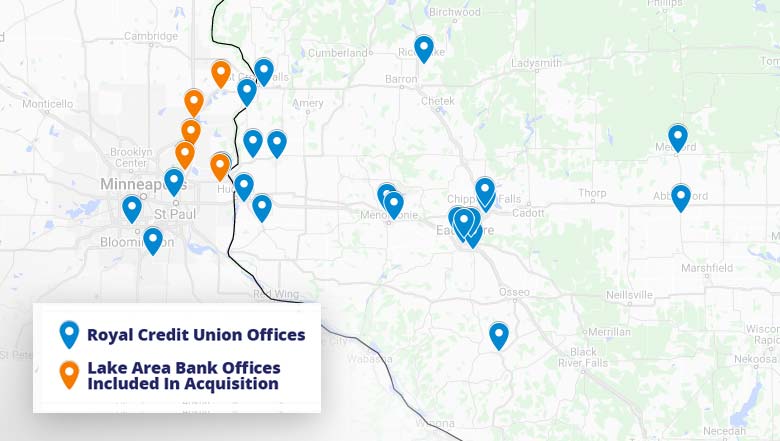 About Royal Credit Union
Royal Credit Union is a federally insured credit union proudly serving over 230,000 Members in Minnesota and Wisconsin. Royal is driven by a core ideology built on a strong purpose and values. You can open an account or apply for a low-rate loan at Royal Credit Union if you live or work in 26 counties in western Wisconsin or 16 counties in Minnesota. Counties served in Wisconsin include Adams, Ashland, Bayfield, Barron, Buffalo, Burnett, Chippewa, Clark, Douglas, Dunn, Eau Claire, Jackson, Lincoln, Marathon, Pepin, Pierce, Polk, Portage, Price, Rusk, Sawyer, St. Croix, Taylor, Trempealeau, Washburn, and Wood. Counties served in Minnesota include Anoka, Carver, Chisago, Dakota, Goodhue, Hennepin, Isanti, Olmsted, Pine, Ramsey, Scott, Sherburne, Wabasha, Washington, Winona and Wright. Realtors in the state of Wisconsin or Minnesota are also eligible to join the credit union. Visit rcu.org or call Royal Credit Union at 800-341-9911 for more information.