How is the homebuying process different when purchasing a second home, vacation home, or cabin? Lenders take on added risk when offering mortgage loans for vacation properties or second homes. This means that there may be stricter requirements to qualify for a mortgage loan on a second home. But the rest of the purchasing process is very similar to a mortgage loan on a first home.
Second Mortgages Have Stricter Requirements To Qualify
Imagine a person has two mortgages: one on their primary residence and one on their second home. If they get in financial trouble and can't make both payments, they are likely to continue paying the mortgage on their primary residence so they can keep their home. They may not be as concerned about defaulting on a mortgage for a second home or vacation property.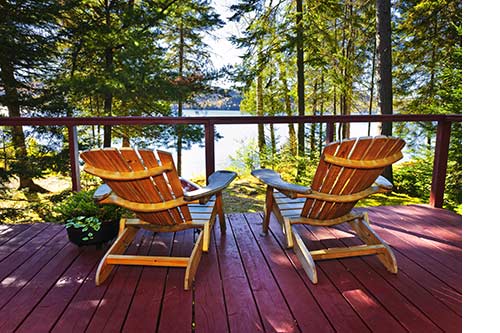 This example shows one aspect of the increased risk that lenders face when making mortgage loans on second homes. To help minimize that risk, most lenders, including Royal Credit Union, have different qualification requirements for second home mortgages. These are often stricter than the requirements for a mortgage on a primary residence. A mortgage for a second home may need a lower debt-to-income ratio and a higher down payment amount than a mortgage for a primary home.
Another way that lenders offset the increased risk is by increasing their rates for second home or vacation home mortgages. The rate increase is usually just a fraction of a percent, so it may not have a major impact on the loan's monthly payment. These different rates may not be shown on the lender's website, making it a bit more challenging to compare your loan options.
Loan Processing Is Similar To Any Other Mortgage
Besides the stricter qualifying requirements and different interest rate, the lending process for a second home mortgage is usually the same as for a first mortgage. You can submit an application online to get started with a mortgage loan on a vacation home or cabin. Someone from Royal's home loan team will reach out to you after we receive your application. We'll review your loan request, cover important details, and ask for any additional documents we might need.
Just like with a normal mortgage, we'll also need to complete a title report, flood certification, and appraisal to finalize your second home mortgage loan for underwriting. Then we'll make a loan decision and you'll sign to close the loan.
Remember that our home loan team is here to help you make informed decisions. We welcome your questions and love working with people to find the perfect lending solution for their situation. We hope this information helps explain how purchasing a second home, vacation home, or cabin is different from a normal home purchase. We'd love to work with you to make your dream of owning a vacation home, country cabin, or second home come true! Connect with our mortgage loan team online today!