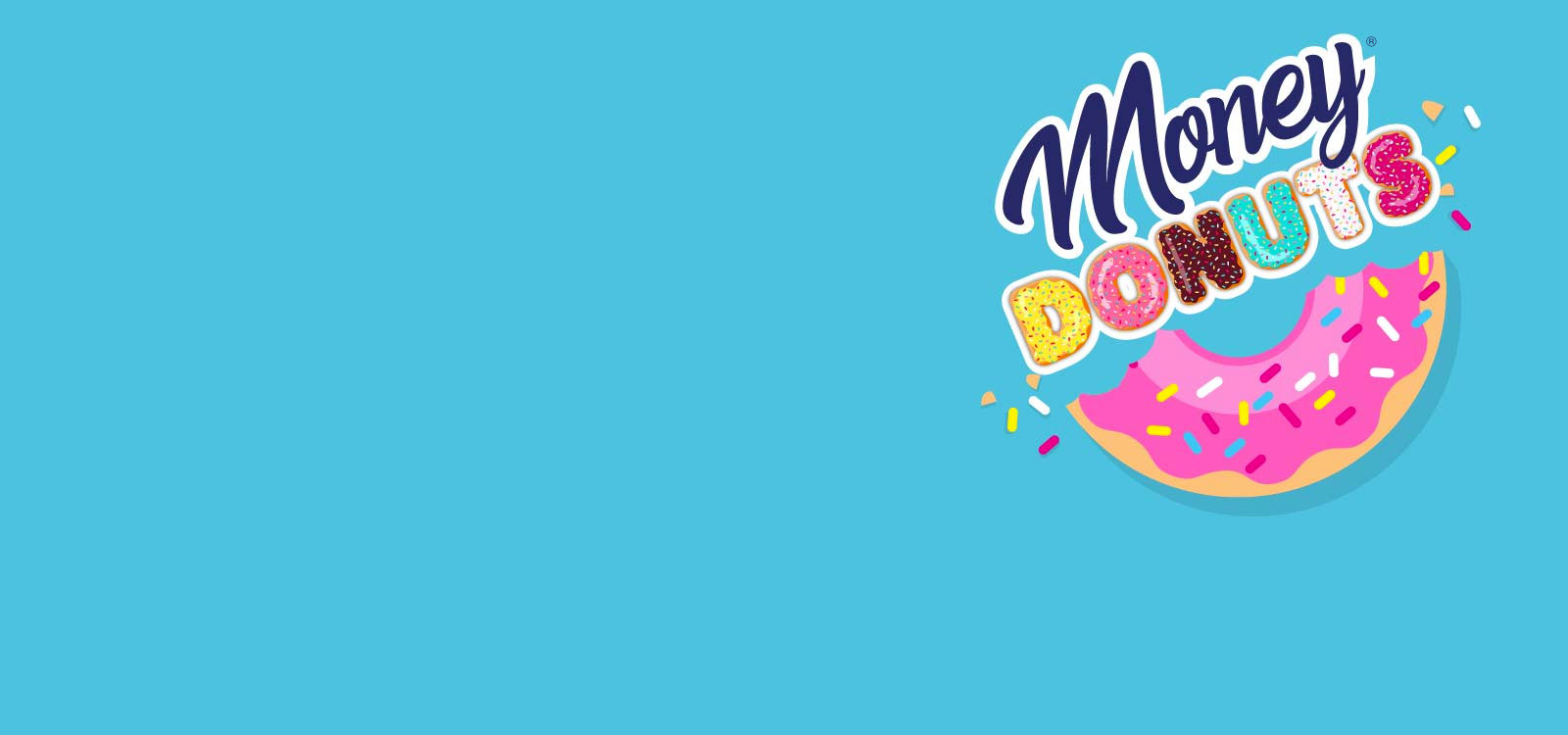 Money Donuts® Donut Hole 5: HELOCs Make Our Heads Spin
Listen to Donut Hole 5: HELOCs Make Our Heads Spin!
If you hear the acronym HELOC (hee-lock!) and want to run the other way, this one's for you! We bite into a hearty helping of home equity line of credit awesomeness to explain what a HELOC is and why you might want one. Plus, hear a "plant rant" from the one and only Cooper as the cherry on top!
James:
Anyone else just intimidated by the word HELOC? Nobody knows what that means. Come on to someone on the street and you say, "HELOC." They're just going to be like... They're going to put their hands up and be like, " I'm done with this. Take my wallet, please." HELOC. What? So, all right, let's take a few seconds and explain what that means. HELOC, Home Equity Line of Credit, right? HELOC. What is that?
Cooper:
It's a line of credit using the equity of your home.
James:
Again, what? Equity? Home?
Steve:
So what is a HELOC? I know Home Equity Line of Credit, but what does that all mean?
James:
So a home equity line of credit is very confusing to most people because it connects to your house and it lets you get cash from your house. So the amount that you currently owe on your mortgage, your current mortgage balance and the amount that your house is worth are two different numbers in most cases. So you probably owe less on your mortgage, you owe the bank or credit union less money than your house is worth. And so the difference between those two numbers is your equity in your house. So if you owe $80,000 and your house is worth $100,000, you have 20%, $20,000 of equity in that home. And so a home equity line of credit lets you use that equity as a line of credit and it's secured by your house. So the interest rate is really low. So the awesome part about it is that this is money that sort of stuck in your house.
James:
Unless you're going to sell your house, you can't get that money back out. Home equity line of credits says, "Here, we know that you're good for this money because the value of your house will cover you. Take this $20,000 or whatever the case may be. And now you can spend it on anything." Almost anything. People use it for home repairs, making home improvements, putting a new roof on. You can also use it for all kinds of other things like your huge wedding in Mexico. Not that that's a smart use of the funds, but you can literally use it for almost anything except for criminal or illegal purposes.
Cooper:
Supposed to use their HELOC to consolidate high interest debt. So if you're trying to pay down those high interest credit cards or any other type of loan with a higher interest rate, people will use their HELOC to pay off those debts because it'll save them a little bit of money when the interest rate is lower.
Steve:
Low interest rate. But how does the payments work then?
James:
Yeah. So because it's a line of credit, you can borrow against your credit limit and then pay it off again over and over. So just because you have that $20,000 of available credit doesn't mean you make payments on that $20,000, you only pay the money that you spend out of that. Just like a credit card or any other line of credit.
Steve:
Somebody explain to me what the draw period means.
James:
The other weird thing about HELOCs is that they typically have a draw period up front, where you can draw the funds out and only pay the interest on the money that you're using. And so you don't pay off the principal or the full amount that you borrowed. You don't start making payments on that until the draw period ends. So for example, most of Royal Credit Union's home equity lines of credit have a five-year draw period, followed by a 15-year repayment period. So for those first five years, you are only paying payments that cover the interest on any amount that you charged to that HELOC. And then the 15 years following, you have those 15 years of payments to break up any big expenses into smaller payments that fit your budget better. And so that's when you're paying for the interest and the principal. So it's a sort of confusing way to sort of offset the cost of a really big expense, like putting out a new roof or adding onto your home over a much longer period of time than a normal loan might let you.
Steve:
During that draw period, your payments are going to actually be less than what they would be if you had to pay principal and interest all at the same time.
James:
Right. They're actually a lot less because you're just covering the interest.
Steve:
I love it.
James:
I mean, you can absolutely pay more. You probably should pay more just as a smart move. But maybe a better way to say it is you don't have to wait until that 15-year repayment period to start paying off the principal. You can actually pay that off at any time. There's no penalty for doing that.
Steve:
But then you just have the opportunity to pay less if you need that flexibility.
James:
Yep. And then if you do pay it all off, you can borrow from it again.
Steve:
Cooper, what are we missing?
James:
Plants.
Cooper:
Do not buy plants with your available equity.
James:
You actually can. Backyard makeover, that's a whole thing, right? Especially in Wisconsin. And I want my yard to look nice. I'm going to go out and buy plants with my HELOC and they're going to look good.
Cooper:
Okay. Well, the key to that is just buying plants that you stick in the ground and just leave them. You don't have to trim them. You don't have to shake them. You don't have to water them. If it doesn't rain, they're just fine.
James:
Low maintenance landscaping. I love it.
Cooper:
Like a snake plant. They don't need water. You don't really need to give them sunlight. You can put them in a closet for years. They're fine. They're thriving by being neglected. Don't ask how it works because I don't know. I just know it does.
Steve:
That's why I only buy plastic plants.
Cooper:
Don't you feel like a fraud? You're like, "Yeah, those plants are fake." It just makes me feel bad about myself.
Steve:
I like my plants like I like my friends. Fake.
James:
Fake.
Steve:
Sorry.
James:
All right, folks. That was a really deep glimpse into Cooper's inner psyche right there.
Cooper:
Just, I'm really bad with plants.
James:
Off the record. I feel like this podcast is practically a dating profile for our host Cooper.
James:
This is a sensitive topic. Are we okay to cover this?
Cooper:
Okay. If this is how I find a husband, I'm I'm here for it guys. I'm here for it.
Steve:
The secret we haven't told her yet is we're actually not producing this podcast. This is just all about building your profile.
Cooper:
This is honestly probably better than any of my dating profiles. Okay. I have to agree though, having a podcast and having your potential suitors listen to it, probably is a good idea. It's a full glimpse into what it's like to be in my presence, what it's like to be in my brain. So I now listen to it and be like, "Oh No, not that one. I pass. Swipe left." I think it's smart.
Steve:
Let's finish this with you started the podcast, you started the money donut with HELOC is too aggressive. What would your new name for a HELOC be?
James:
I need someone to hold my hand and be like, "Nice way to get money out of your home or something."
Cooper:
Maybe HELOCs don't even need a name. Maybe they're just home equity money options. That was, that wasn't helpful.
James:
It's actually a dwelling secured equity line of credit, provided to members who meet certain criteria and eligibility requirements. Just kidding.
Cooper:
I like using the word dwelling. If you listen to this podcast, the whole podcast, at least one time, one episode. Please leave us a rating and a review and subscribe on your favorite podcast listening platform.
Steve:
It would really mean the world to Cooper. James would also like it.
Cooper:
I just want to read your reviews.
James:
Thanks for listening as always. We'll talk to you again soon.