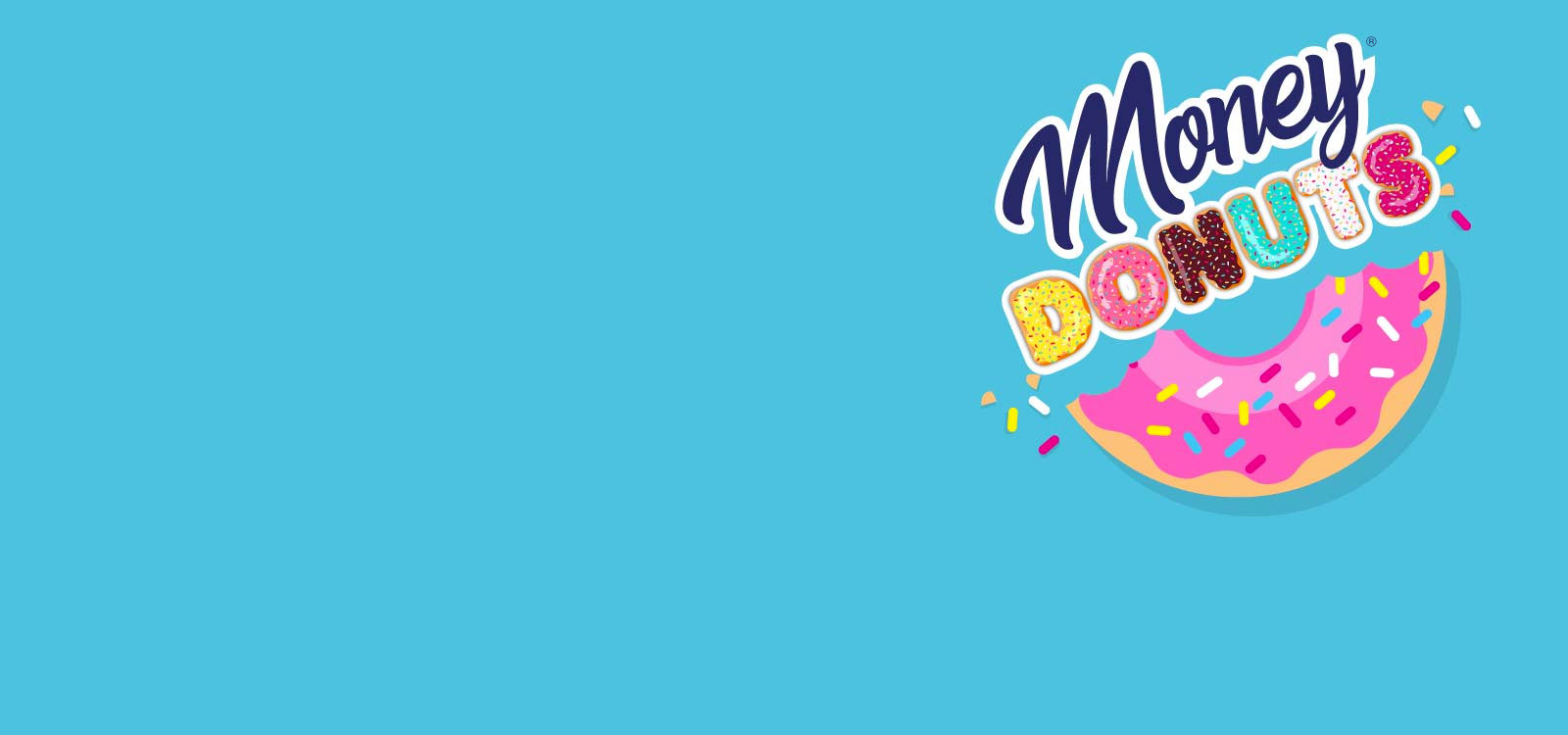 Money Donuts® Donut Hole 1: Holiday Shopping Tips
Listen to Donut Hole 1: Holiday Shopping Tips!
Donut holes are short segments about all kinds of topics. For our first-ever donut hole, we share some holiday shopping tips and things to remember when it comes to finances around the holidays.
Steve:
Hey, it's here. Oh. Hey, it's here. That's awesome. Good start. Hey, it's Steve here from the Royal Credit Union podcast, Money Donuts, with something a little delicious today.
James:
Delicious?
Steve:
Yeah. And it's not a full donut that we usually talk about, but we wanted something that bridges the gap between full Money Donut episodes, something that's delicious and has a little information inside of it. Do you guys know what I'm talking about?
James:
Text message.
Cooper:
I might know.
Steve:
We're talking about...
James:
Donut Hole?
Steve:
We're talking about Donut Holes. That's right, James. We are now introducing Royal Credit Union's Donut Holes, just little bite sized.
James:
I like it.
Steve:
Something that just tides you over, so welcome to your first ever Donut Hole.
James:
Awesome.
Cooper:
What flavor is our Donut Hole? Did we ever decide if Donut Holes are going to have a flavor?
James:
Ooh.
Cooper:
Are they plain old glazers?
James:
I don't think that we talked about it.
Steve:
I would say that each Donut Hole maybe tastes the same, but we have little sprinkles that are different colors or different shapes for each episode.
Cooper:
Oh, I love sprinkles.
Steve:
Sprinkled Donut Holes.
James:
What's the theme for this Donut Hole?
Steve:
Green, red, and white sprinkles, because it's all about holiday shopping.
James:
I love holiday shopping.
Steve:
Have you gone out and got my present yet?
James:
It's in the mail?
Steve:
So let's get into it. Holiday shopping is here for us all. What are some tips and tricks that people should be thinking about this year?
James:
Specifically those financial tips and tricks, not just a gift guide, right? Those are easy to come by.
Cooper:
There are so many gift guides out there. It overwhelms me.
James:
I think it just adds to the stress of the season and that's why those financial tips are so important, because that's where so much of that starts from, I think.
Cooper:
Absolutely. When you just cannot figure out what category your grandma falls in. Is she a book reader? Is she a media person? Just buy her all the things, right?
James:
Absolutely.
Cooper:
And that's a perfect gateway into our first tip, which is to make a list and check it twice. Write down every person that you're shopping for this holiday season.
James:
So then you can decide who to cross off, right? Who's not getting a present?
Cooper:
Yes. It's a perfect way to narrow it down.
Steve:
Who's been naughty...
Cooper:
Add some pros and cons for each person.
Steve:
So why is that a good idea, to write down who you're going to shop for and stick to that list?
Cooper:
You know, it's similar to if you go grocery shopping, right? If you go grocery shopping, you have a list. It keeps you on track. Same with gift buying. If you write down every person and what you want to purchase for them, once you're done and you cross their name off, you're done. No more money is spent on that person. So it can be really helpful, keeping that budget on track when you're planning how much spending you're going to be doing.
James:
So that saves you from seeing a recommended item and throwing it in your online cart at the last second, or something like that?
Cooper:
Absolutely. That way you can go, "Nope. Crossed Grandma's name off. Already got her cozy socks. Don't add anything else to my cart for her."
Steve:
Sometimes you feel like you see that special thing and you're like, "I want to buy this for somebody. I don't care who gets it, but I just want to get it." So yeah, if you have that list of people that you know that you're buying for, it keeps you on track.
Cooper:
Let's play a game. Steve, James, what's the one thing you think people don't budget for during the holiday season that they should?
James:
Labels.
Steve:
Electricity.
Cooper:
Oh, good guesses, but neither of you are right. So, the one thing that you should be budgeting for is all the stuff to wrap those gifts up. So do you need wrapping paper? Do you need bows, bags, or other stuff? Make sure to put that on your shopping list, down to tape. Budget for all your gift wrap.
James:
I said labels.
Cooper:
Labels. Well, what kind of labels?
James:
Yeah. Yeah. Okay.
Steve:
Good point.
Cooper:
Gift tags.
Steve:
So Cooper, each year I usually take all my leftover gift wrapping from the year before, I do what's called a Frankenstein present, where I just tape those extra pieces onto that present and then give it to a special person each year. Is that still cool?
Cooper:
Only if that special person this year is me.
Steve:
You're in charge of the Frankenstein.
Cooper:
That's a great way to save money and make sure that you don't overspend the following year. I know one of my favorite holiday traditions is my Nana and Bompa, who are my grandparents, wrap all of our presents in the colored funnies from the newspaper or the comic section, so that can be a really good way to save money too and creates memories.
James:
Yes, the funnies. I love that. My parents did the same thing.
Steve:
All right. What other holiday shopping tips do we have?
Cooper:
How about, how are we actually going to buy these gifts? So this is a popular time of year for stores to do credit card promotions, right? So you're checking out and get $8,000 off because you can open their brand new shiny store credit card. Don't do that. If you want to use a credit card, they can be great, especially if they have awesome rewards programs as part of them, so cashback points where you can redeem them later, but make sure you're budgeting for that money. It's not just free money. You are paying that money back, so use your credit cards; they can be great when used responsibly, but make sure you budget for it.
Steve:
One thing we didn't talk about is budgeting for gifts for your favorite podcasters.
Cooper:
I would really like a puppy.
James:
Or you could just send us donuts. We always accept donuts.
Steve:
All right, that's all for this Donut Hole from the Royal Credit Union Money Donuts podcast. Tune in next time for a full episode.