January 13, 2021
EAU CLAIRE, Wis. – Royal Credit Union Organizational Relations and Recruiting Manager, Betty Laskowski, was presented the Royal Credit Union (Royal) 2020 Positive Impact Award. Laskowski, a Royal team member since 1992, met the high criteria for this award because of the exceptionally positive impact she has had on Royal team members and the communities it serves throughout the unique challenges of 2020. The Positive Impact Award is Royal's highest team member recognition, and only one award, per year, is presented if a team member is determined to meet the standards.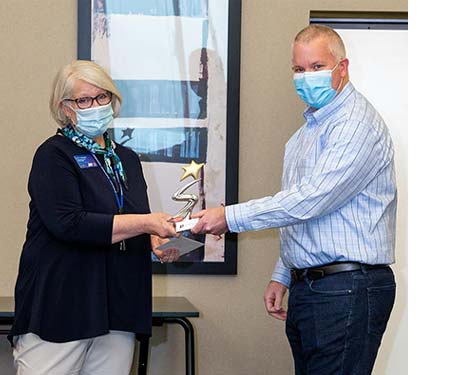 Royal's organizational talent services team provides effective talent acquisition efforts and performance management support to Royal's team members and leaders. Laskowski leads the team to ensure job applicants and candidates have an exceptional experience in all phases of the talent acquisition process. Making a positive impact in the lives we touch is Royal's core purpose and despite the demands on her time in 2020 she has demonstrated a strong commitment to making a positive impact in the community. Laskowski served on the West Central Wisconsin Workforce Development Board, the Eau Claire Chamber Workforce Committee, CVTC Business Advisory Panel, was a Chippewa Valley Society for Human Resource Management Workforce Readiness Advocate, and was part of 100 Women Who Care. Her contributions to Royal team members and the community have changed lives for the better and the positive impact will continue to be felt for years.
"In 2020, Betty never wavered on doing the right thing, was never too busy to be interrupted or to drop everything to deal with the important work that needed to be completed despite the incredible demands on her team," said Brandon Riechers, Royal Credit Union President & CEO. "She is a mentor to other Royal team members, contributing to their success, and to Royal's success, through her selfless giving of time, knowledge, and guidance. We are very proud to acknowledge her accomplishments in 2020 with Royal's Positive Impact Award."
Laskowski has served as a mentor to Royal team members, both formally through Royal's Exploring Leadership program and informally as she is sought out for her experience, knowledge, and leadership. She is a champion of Royal's core values and core purpose and continuously reinforces them as she helps others develop in their careers. All Royal team members are eligible to make nominations for the Positive Impact Award. The recipient is chosen by the executive team. The award was presented to Laskowski at Royal's corporate headquarters in Eau Claire.
About Royal Credit Union
Royal Credit Union is a federally insured credit union proudly serving over 220,000 Members in Minnesota and Wisconsin. Royal is driven by a core ideology which is built on strong purpose and values. You can open an account or apply for a low-rate loan at Royal Credit Union if you live or work in 26 counties in western Wisconsin or 16 counties in Minnesota. Counties served in Wisconsin include Adams, Ashland, Bayfield, Barron, Buffalo, Burnett, Chippewa, Clark, Douglas, Dunn, Eau Claire, Jackson, Lincoln, Marathon, Pepin, Pierce, Polk, Portage, Price, Rusk, Sawyer, St. Croix, Taylor, Trempealeau, Washburn, and Wood. Counties served in Minnesota include Anoka, Carver, Chisago, Dakota, Goodhue, Hennepin, Isanti, Olmsted, Pine, Ramsey, Scott, Sherburne, Wabasha, Washington, Winona and Wright. Realtors in the state of Wisconsin or Minnesota are also eligible to join the credit union. Visit rcu.org or call Royal Credit Union at 800-341-9911 for more information.