October 7, 2019 | Written By: Jennifer McHugh | Director of Public Affairs & Financial Education
Baby clothes, diapers, and wipes aren't typical items found in a financial institution, but Royal Credit Union (Royal) has plenty on hand. Royal team members hosted a baby shower in support of the credit union's Community Give Back Day.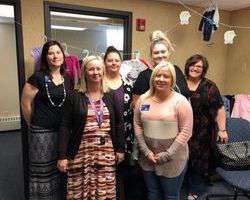 The items collected will be donated next week to the Pregnancy Help Center in Rice Lake. It's just one of nearly 50 organizations receiving a helping hand from Royal during the biennial event. Community Give Back Day is taking place Monday, Oct. 14. All Royal offices will close, and more than 600 team members will participate in activities created to help nonprofit organizations located in Wisconsin and Minnesota.
"I'm so proud to help organize and participate in this impactful event," said Vicki Hoehn, Royal Credit Union Vice President of Community Engagement. "We created Community Give Back Day in 2017 to make a difference in the communities the credit union serves. Our team members will complete over 3,500 hours of work in one day, and we are looking forward to making a significant impact by completing our service projects."
The 50 service projects include the assembly of totes for individuals in transitional housing, fence repair at a horse farm for disabled individuals and construction of cedar benches for an area nature preserve. In addition to the supplies collected for the Pregnancy Help Center, RCU employees will also be doing yard work, painting and meal prep at the facility. The Pregnancy Help Center serves over 1000 customers a year through its medical services, parenting classes and residential home for single mothers and their children. Kaydie Green is the director of the Pregnancy Help Center and says the extra help is appreciated.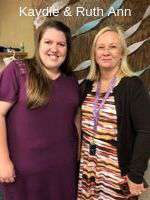 "It's a blessing," Green said. "Our organization does not receive government funding, so we rely completely on the generosity of the community to provide our services. We are committed to help single mothers and their children become safe, stable and successful families. We are grateful to be a part of RCU's 2019 Community Give Back Day."
Royal mortgage processing assistant, Ruth Ann Kjelstad, organized the baby shower. Kjelstad is a mortgage processing assistant and works at Royal's Eau Claire North office on Birch Street. "It's very rewarding to be a part of Community Give Back Day," Kjelstad said. "I was a young mother myself and I really wanted to find an organization that supported families in need. I work with such kind, loving, and awesome people at Royal. I'm in awe of the amount of supplies they donated for the pregnancy center through our shower and I can't wait to complete our service project next week during Community Give Back Day."
A team of 18 RCU team members plan Community Give Back Day and begin meeting 18 months prior to the event. Royal closes all branches each Columbus Day for team member development activities. On Monday, Oct. 12, 2020, RCU will hold its biennial Summit meeting, a daylong educational meeting.