October 31, 2019 | Written by John Martin | Friends of Willow River & Kinnickinnic State Parks
Hudson, Wisconsin – Paths to Discovery Campaign announced a $250,000 contribution from the RCU Foundation in support of the new Nature Center at Willow River State Park. The announcement event was hosted by Tim Sass and the local Royal Credit Union office in New Richmond. Royal executives that came to make the announcement included Brandon Riechers, Royal Credit Union CEO and President, and Doug Olson, RCU Foundation Vice President and Royal Credit Union Board Chair. Paths to Discovery Campaign was well represented at the event, including John Collins, Sally Giese, Judy Remington, Nick Schmit, and Tim Sass.
"RCU Foundation is pleased to provide a $250,000 gift to the new Nature Center at Willow River State Park. This is a terrific project for Hudson, New Richmond, Somerset, Stillwater, and the area," stated Doug Olson, RCU Foundation Vice-President. "The RCU Foundation's purpose is to create a positive impact in the lives we touch and the communities we serve," said Olson, "and the Paths to Discovery Campaign offered us a chance to make a difference in this community."
The New Nature Center will have classrooms and indoor and outdoor education spaces to inspire young learners and adults. Along with the community rooms, exhibits and the classroom facilities will be flexible and expandable, making this an ideal facility to meet the needs of the community.
"This is a wonderful cornerstone-level gift from the RCU Foundation and I want to thank their leadership for making this important investment in our community," stated John Collins, President of the Friends of Willow River & Kinnickinnic State Parks, Inc.
In recognition for the cornerstone-level gift, The New Nature Center will now be home to the RCU Community Room.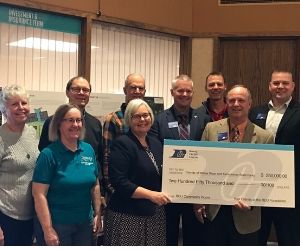 About Willow River Nature Center
Serving more than 3,500 students each year, Willow River Nature Center builds a passion for education and hands-on experiences that promote a healthy respect and appreciation for the natural world. Says Judy Remington, Paths to Discovery Campaign Vice-Chair, "Education is the heart of our mission. A new and improved Willow River Nature Center will take education to a new level and benefit tens of thousands of students, seniors, and families in our community."
About Royal Credit Union
Royal Credit Union is a federally insured credit union proudly serving over 200,000 Members in Minnesota and Wisconsin. Royal is driven by a core ideology which is built on strong purpose and values. You can open an account or apply for a low-rate loan at Royal Credit Union if you live or work in 26 counties in western Wisconsin or 16 counties in Minnesota. Counties served in Wisconsin include Adams, Ashland, Bayfield, Barron, Buffalo, Burnett, Chippewa, Clark, Douglas, Dunn, Eau Claire, Jackson, Lincoln, Marathon, Pepin, Pierce, Polk, Portage, Price, Rusk, Sawyer, St. Croix, Taylor, Trempealeau, Washburn, and Wood. Counties served in Minnesota include Anoka, Carver, Chisago, Dakota, Goodhue, Hennepin, Isanti, Olmsted, Pine, Ramsey, Scott, Sherburne, Wabasha, Washington, Winona and Wright. Realtors in the state of Wisconsin or Minnesota are also eligible to join the credit union. Visit rcu.org or call Royal Credit Union at 800-341-9911 for more information.