October 23, 2019 | Written By: Jennifer McHugh | Director of Public Affairs & Financial Education
Eau Claire, WI – The National Credit Union Foundation (the Foundation) announced it has awarded eight grants totaling $75,000 to help credit unions document and measure the impact of their products and services on member and employee financial health. Royal Credit Union (Royal) is one of the organizations selected to receive funding. Royal is partnering with UW-Stout's Applied Research Center to measure the effectiveness of the credit union's financial education program in correctional facilities.
Royal offers educational programs in county jail facilities in Rice Lake, Menomonie and Eau Claire, Wisconsin.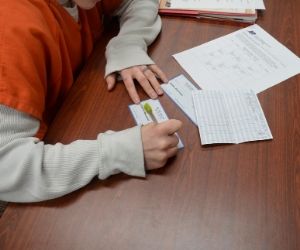 Royal also has a program in the WI Department of Correction's Chippewa Valley Correctional Treatment Facility in Chippewa Falls. Royal is using the grant funds to develop a tool to measure skill development, attitude changes and predictive behaviors upon completion of the financial education course. Approximately 225 incarcerated individuals complete the program each year.
"We created the program because we believe every individual should have access to financial education," says Heather Johnson Schmitz, Royal Credit Union Grant & Giving Coordinator. "Participating in the Foundation's Impact Tracking of Financial Health Components program can help us evaluate and make improvements to the curriculum and measure the effectiveness of the overall program."
In 2017, the Foundation funded six credit unions to measure the financial health of their members, using the Center for Financial Services Innovation financial health segmentation methodology. The aggregate data showed that more than half (58%) of members in the total credit union sample are struggling financially, highlighting a significant opportunity for credit unions to help their members better spend, save, borrow, and plan. The purpose of these grants is to help credit unions build upon this work by supporting their initiatives to measure and document these efforts specifically in the Save, Spend, Borrow, and Plan categories.
About Royal Credit Union
Royal Credit Union is a federally insured credit union proudly serving over 200,000 Members in Minnesota and Wisconsin. Royal is driven by a core ideology which is built on strong purpose and values. You can open an account or apply for a low-rate loan at Royal Credit Union if you live or work in 26 counties in western Wisconsin or 16 counties in Minnesota. Counties served in Wisconsin include Adams, Ashland, Bayfield, Barron, Buffalo, Burnett, Chippewa, Clark, Douglas, Dunn, Eau Claire, Jackson, Lincoln, Marathon, Pepin, Pierce, Polk, Portage, Price, Rusk, Sawyer, St. Croix, Taylor, Trempealeau, Washburn, and Wood. Counties served in Minnesota include Anoka, Carver, Chisago, Dakota, Goodhue, Hennepin, Isanti, Olmsted, Pine, Ramsey, Scott, Sherburne, Wabasha, Washington, Winona and Wright. Realtors in the state of Wisconsin or Minnesota are also eligible to join the credit union. Visit rcu.org or call Royal Credit Union at 800-341-9911 for more information.