April 16, 2021
In March, the RCU Foundation held the very first the Rock the Riverfront Coloring Contest. The contest was an opportunity for children 12 years old and under to use their imagination and "set the stage for their own adventure" by coloring Royal's mascot, Savin' Sammy and his friends on stage. The contest was sponsored by WEAU 13 News and received over 200 entries, 10 of which were picked to win a fun prize basket!
Rock the Riverfront featuring the Charity Classic is celebrating 27 years of running and walking to support organizations that make a difference in the communities that Royal Credit Union serves. Proceeds from the event will benefit three partner charities: The Heyde Center for the Arts in Chippewa Falls, Chippewa Valley Theatre Guild in Eau Claire and Northern Star Theatre Company in Rice Lake. Arts organizations were the first to close their doors at the start of the global pandemic and will likely be the last to reopen. This partnership will help these groups operate during this time of great need.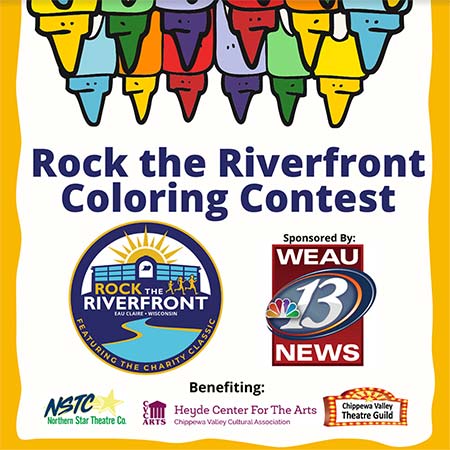 Registration for this virtual event will be open through June 26. Participants can run or walk the 10K or 2 mile routes and youth can take part in a 1/2 mile course anytime between June 5 and June 28. Registration details are available at www.rcu.org/race.
On behalf of the RCU Foundation and WEAU 13 News, we would like to thank all the young artists who participated in our coloring contest. We appreciate you sharing your masterpieces and love of the arts. Congratulations to our Rock the Riverfront Coloring Contest winners:
Makenna W. – Chippewa Falls
Jasmin N. – Chippewa Falls
Remi S. – Colby
Nora D. – Eau Claire
Madi B. – Chippewa Falls
Amelia R. – Eau Claire
Olin B. – Menomonie
Brenden H. – Eau Claire
Yarelly C. – Abbotsford
Kenneth B. – Menomonie