June 30, 2021
The RCU Foundation's Rock the Riverfront Classic Rock Hunt sponsored by Market & Johnson ended on the evening of Friday, June 25. Wyatt Eiden and three friends from Chippewa Falls found the rock hiding along the Ice Age Trail near the Chippewa Moraine State Recreation Area in New Auburn, WI (Chippewa County).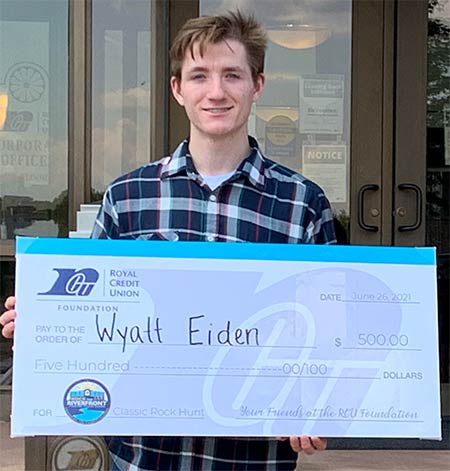 Wyatt, along with his brother Jack, and friends Beau and Nevada have participated in the Classic Rock Hunt since 2019 and have been successful in finding the rock each year. They were excited to hunt together again this year but started a little later in the week as the clues got more specific. Once they saw the image on the fourth clue they matched it with the Chippewa Moraine area and the Obey Interpretative Center and made the drive to the area but weren't able to locate the rock that day. The fifth clue confirmed they were in the right area so they kept looking for the rock among the ferns, until they found it about around 6pm on Friday about 950 feet into the wholly mammoth trail and off the path about 6 feet. The rock was near a downed log and two trees in the shape of an X. The four young men enjoyed what has become their summer tradition and plan to split the $500 award evenly.
In addition to the Classic Rock Hunt a Youth Rock Hunt held in earlier In June this year. This scavenger hunt created an opportunity for kids and families to get out and explore their communities. There were 3 rocks hidden across 6 Royal Credit Union communities, for a total of 18 rocks. A total of 15 Youth Rocks were found during the contest timeframe and each winner received a Royal Credit Union Piggy Bank and $40 cash!
Rock the Riverfront featuring the Charity Classic celebrated 27 years of running or walking for a reason and supporting non-profit organizations. This year's walk/run portion of the event was virtual with proceeds from the event benefitting three partner charities: The Heyde Center for the Arts in Chippewa Falls, Chippewa Valley Theatre Guild in Eau Claire and Northern Star Theatre Company in Rice Lake
The RCU Foundation thanks Market & Johnson for sponsoring the Classic Rock Hunt and the Youth Rock Hunt. The 2022 Rock the Riverfront featuring the Charity Classic run/walk will take place in Phoenix Park on June 25. More information is available at www.rcu.org/Race.