At Royal Credit Union, our core purpose is to create a positive impact in the lives we touch. We make this commitment to our Members and the wider communities we serve. Here are two recent examples of giving. Learn more about how Royal gives back.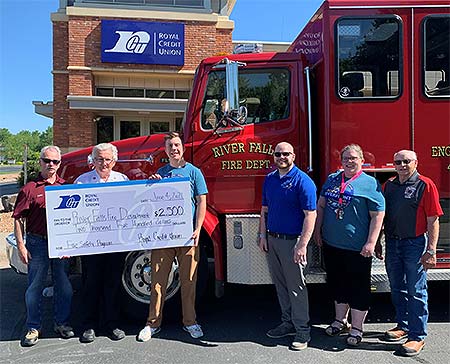 Royal Credit Union partnered with the River Falls Fire Department to support their efforts to teach young people the importance of fire safety and how to properly handle a fire should one occur. Due to the frequent use, the mobile fire house had become worn and was no longer able to be used as a training prop. Anthony Cole, Branch Manager of Royal's River Falls office and Pauline W, Fire Safety Education Officer for the River Falls Fire Department, worked together to find a solution. In May 2021, Royal Credit Union donated $2,500 towards the purchase of a new training house. The River Falls Fire Department is looking forward to acquiring the new mobile fire house so they can continue the safety program during the 2021-2022 school year.
Royal was also proud to make a recent donation to the STAR Education Foundation to support their mission of enriching student lives and enhancing education in an effort to ensure student success. The funds will be used to create a new playground at St. Croix Falls Middle School in Wisconsin. The new playground will be used by grades 5-8, students participating in the Community Learning Center (CLC), summer school programs, and all members of the St. Croix Falls community. The Middle School Student Council was responsible for picking equipment that would be fun, inclusive, and help maintain a healthy lifestyle. The playground will have five different zones of play and include rope towers, an adventure course, an inclusive wheel that is wheelchair accessible, a sky runner, 4 tables, and 9 benches.