In February, the RCU Foundation held the Rock the Riverfront Coloring Contest. This contest was for youth 12 years old and under and encouraged creativity while building awareness for the annual run/walk and the Veteran-focused charities that it supports in 2022. The contest was sponsored by WEAU 13 News and received over 100 entries, 10 of which were picked to win a fun prize basket!
On behalf of the RCU Foundation and WEAU 13 News, we would like to thank all the young artists who participated in our coloring contest. We appreciate you sharing your masterpieces. Congratulations to our Rock the Riverfront Coloring Contest winners:
Noah G. Lake Hallie, WI
Azalyn L. Arkansaw, WI
Brynn B. Curtiss, WI
Mikayla P. Boyd, WI
Coby K. Medford, WI
Kinzie M. Colby, WI
Mariska S. Pigeon Falls, WI
Nora K. River Falls, WI
Jada J. Eau Claire, WI
Bryar J. Eau Claire, WI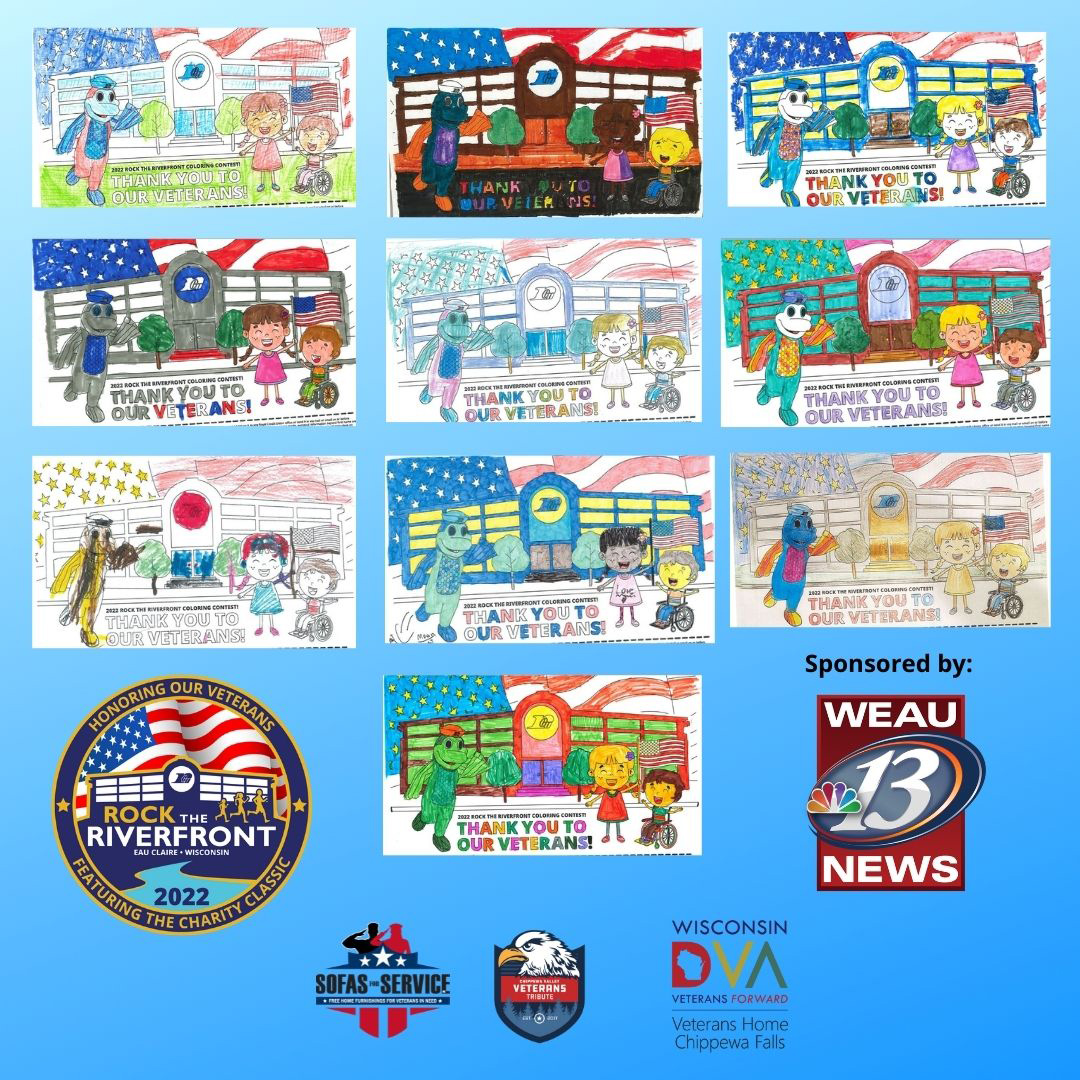 The Rock the Riverfront featuring the Charity Classic is celebrating 28 years of running and walking to support organizations that make a difference in the communities that Royal Credit Union serves. Proceeds from the event will benefit three Veteran-focused partner charities: Chippewa Valley Veterans Tribute Foundation of Eau Claire, Sofas for Service of Eau Claire, and Wisconsin Veterans Home at Chippewa Falls. These organizations work with Veterans and their families to provide needed items and support services throughout a Veteran's life after active service. The RCU Foundation is proud to give back to those who have served and the organizations that advocate for making a difference in Veterans' lives.
Registration is open for both the in-person race and virtual race options through June 25 with pre-registration pricing through June 23. Registration details are available at www.rcu.org/Race. Every registration includes a free charity vote and additional votes can be purchased at $2 each. The charity with the most votes will receive $15,000, second place will receive $7,500, and third will receive $5,000.