At Royal, we believe in making a positive impact by being involved in the communities we serve. Over the past few months we were able to take part in several, fun community events and to celebrate with our Members.
We kicked off the summer with Shred Days! Shred Days allow Members to securely dispose of confidential papers at Royal Credit Union offices. These events are held at various Royal offices and are a great opportunity for Members to securely dispose of confidential papers. By bringing your papers to a Royal Credit Union Shred Day event, you gain peace of mind knowing that your documents are being securely destroyed. Better yet, the Shred Days are free for all community members. For the 2021 summer, we shredded over 25,000 pounds of paper!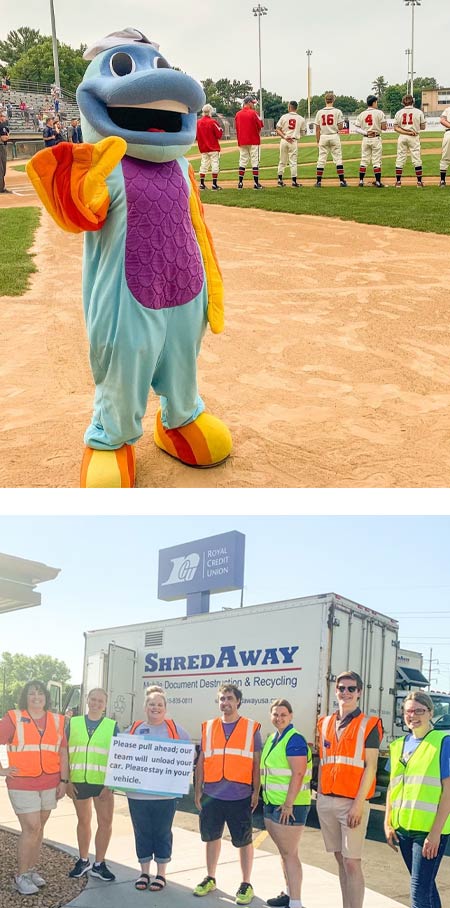 Another way we soaked in the summer sunshine was through the Sounds like Summer Concert Series put on by Volume One! Every Thursday night in Phoenix Park from June through August, local bands play to large crowds right on the banks of the Chippewa River. There, our community members are able to spend their Thursday evening with good company and enjoying some of the best things Eau Claire has to offer.
Royal also sponsors events just for Kid's Club Members throughout the year in various communities. Our most recent events were a Moana Drive-In Movie at the Chippewa Fall YMCA, an afternoon at Fawn Doe Rosa Wildlife Park in St. Croix Falls and Party in the Park at Mary's Park in New Richmond! Royal believes in helping children learn about managing their money in a fun and engaging ways so they're prepared for a successful financial future. When a Member age 12 or younger opens a savings account they will automatically be enrolled in Kid's Club. Kid's Club Members receive a savings passbook, a stamp for every deposit, a prize for every fourth deposit and electronic newsletters filled with valuable education tools and activities to help teach money management. Learn more about Kid's Club and our Kid's Club events at www.rcu.org/kidsclub.
A summer wouldn't be complete without baseball! The Northwood's League always keeps spectators on their toes each summer and the Royal sponsored Eau Claire Express game was no different. Not only did fans watch a great game of baseball, but they also experienced t-shirt throwers, received free throwback Eau Claire Bears hats, and watched Royal team members Heidi Martinson throwing the first pitch and Crystal Shilts singing the National Anthem.
Lastly, we got to spend a lot of time out on the green! Golf outings allow Royal a chance to enjoy a day on the course while supporting many great community causes. Royal Credit Union was a part of several golf outings this summer, each benefiting local non-profit organizations. We were excited to end our summer strong by making a difference in our communities.