Supporting First Responders
At Royal Credit Union, our core purpose is to create a positive impact in the lives we touch. We make this commitment to our Members and the wider communities we serve. Here is a recent example of giving. Learn more about how Royal gives back.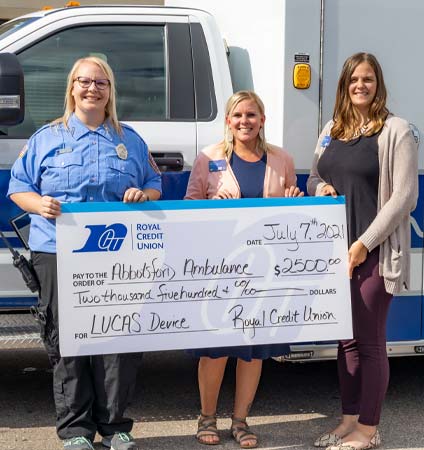 Royal Credit Union was proud to make a recent donation to the Abbotsford Fire & Ambulance Service to support their mission of providing fire protection and emergency response services to the Abbotsford community. In July 2021, Royal donated $2,500 towards the purchase of a LUCAS device. A LUCAS device is an automated chest compression machine that delivers chest compressions to sudden cardiac arrest patients. This device will be available to all Central Fire & EMS District teams and centrally located at the Abbotsford Fire Station. LUCAS will provide high-quality and safer chest compressions to those the Abbotsford Fire & Ambulance Service serves in the Abbotsford, Colby, and Dorchester communities.