May 6, 2020
Eau Claire, WI – Royal Credit Union has launched a new initiative to engage community members virtually though social media on topics related to their financial well-being. The new Facebook group "Money Talk | Tips, Tricks, and Tools" is a place to ask questions, receive expert information and share best practices. Royal understands that money is on the minds of many individuals, especially during the COVID-19 crisis. Royal created the group as a way to share financial empowerment resources in many different forms.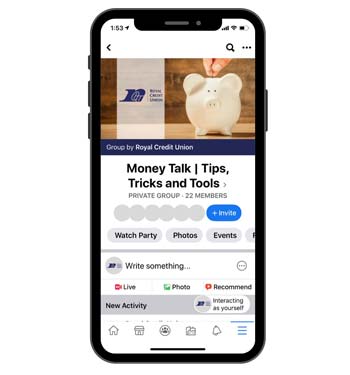 "I hope this group can be a place of connection during these uncertain times," said Cooper Larson, community financial education coordinator. "Our team is working hard creating resources to help educate our Members, communities, and students during this pandemic. We always say, it's okay to talk about money…that's how we learn, and the current situation is no exception."
To become part of Royal's new financial education efforts make sure to like us on Facebook (https://www.facebook.com/likeRCU/), and request to join the group by clicking this link https://www.facebook.com/groups/615538185968334/?source_id=138182292912465.
In addition to the Facebook group Royal has launched a new virtual financial education webpage with activities and resources for both students and adults. Check back regularly as Royal's in-house financial education team continues to add additional content.
To view the webpage full of digital activities and resources click here https://www.rcu.org/education-resources/financial-education/education-programs/virtual-education.
About Royal Credit Union
Royal Credit Union is a federally insured credit union proudly serving over 220,000 Members in Minnesota and Wisconsin. Royal is driven by a core ideology which is built on strong purpose and values. You can open an account or apply for a low-rate loan at Royal Credit Union if you live or work in 26 counties in western Wisconsin or 16 counties in Minnesota. Counties served in Wisconsin include Adams, Ashland, Bayfield, Barron, Buffalo, Burnett, Chippewa, Clark, Douglas, Dunn, Eau Claire, Jackson, Lincoln, Marathon, Pepin, Pierce, Polk, Portage, Price, Rusk, Sawyer, St. Croix, Taylor, Trempealeau, Washburn, and Wood. Counties served in Minnesota include Anoka, Carver, Chisago, Dakota, Goodhue, Hennepin, Isanti, Olmsted, Pine, Ramsey, Scott, Sherburne, Wabasha, Washington, Winona and Wright. Realtors in the state of Wisconsin or Minnesota are also eligible to join the credit union. Visit rcu.org or call Royal Credit Union at 800-341-9911 for more information.