June 9, 2021
The RCU Foundation is so excited to announce that we have a new activity tied to Rock the Riverfront. We are adding a Youth Rock Hunt that will start on the morning of June 11, 2021. The Youth Rock Hunt is a scavenger hunt for our specially designed rocks (pictured below) and is a way for kids and families to get out and explore their communities. There will be 3 rocks hidden in each of the following communities, Chippewa Falls, Eau Claire, Menomonie, Colby, Whitehall and Rice Lake, for a total of 18 rocks and 18 chances at winning a Royal Credit Union Piggy Bank and $40 cash!
We are encouraging people in these communities to allow children 13 years old and under to find these rocks and claim the prizes. When someone finds a rock it can be turned in at any Royal Credit Union office to redeem the prize. The Youth Rock Hunt is a great addition to the Classic Rock Hunt that has been part of Rock the Riverfront since 2017. We are grateful to Market & Johnson for sponsoring both of these activities. Our Classic Rock Hunt will be back and starts on June 21, 2021 so check out www.rcu.org/Race for updates soon.
Rock the Riverfront featuring the Charity Classic is celebrating 27 years of running and walking to support organizations that make a difference in the communities that Royal Credit Union serves. Proceeds from the event will benefit three partner charities: The Heyde Center for the Arts in Chippewa Falls, Chippewa Valley Theatre Guild in Eau Claire, and Northern Star Theatre Company in Rice Lake.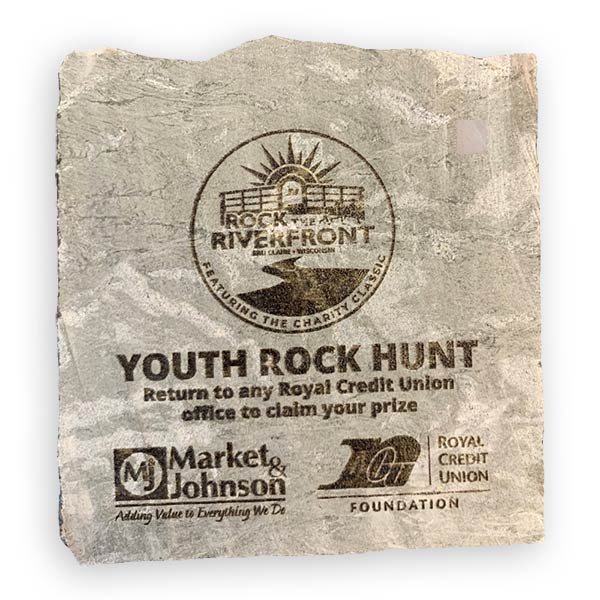 Registration for this virtual event will be open through June 26. Participants can run or walk the 10K or 2 mile routes and youth can take part in a 1/2 mile course anytime between June 5 and June 28. Register at www.rcu.org/Race.
For full contest rules for the Youth Rock Hunt click here.