November 15, 2022
PRESCOTT, Wis- The Royal Credit Union Foundation (RCU Foundation) made a $25,000 gift dedicated to the construction of Fairy Wonderland Park in Prescott, WI. This unique park will be an inclusive park that will promote physical activity and play to promote socialization, family time, and creativity. Fairy Wonderland Park will be a life-sized fairy garden for kids of all ages and abilities. All the pieces of equipment will promote balance, coordination, sensory input and promote exercise.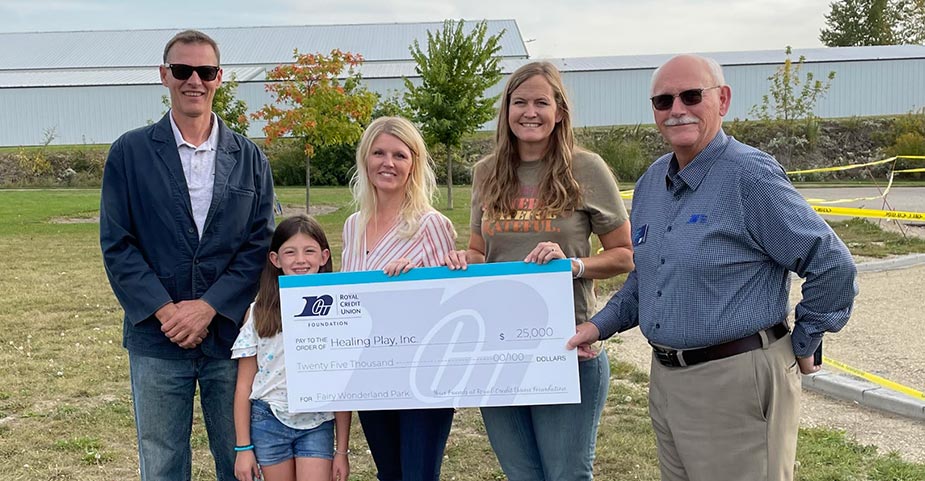 "With the donation from Royal Credit Union Foundation, we were able to begin building phase one of Fairy Wonderland Park. This donation will ensure that the park will be a place that goes beyond minimum accessibility for kids of all abilities, while learning through purposeful play" said Bethany Christenson, board member for Healing Play, Inc, the nonprofit created to raise funds for Fairy Wonderland Park. "This considerable contribution allows us to continue to honor our children and create joy and fun for families in Prescott and the surrounding communities."
"The RCU Foundation has history of supporting parks like the Fairy Wonderland Park. We recognize that having spaces in a community where people can come together to learn, to recreate, and to build connections is vital to fostering relationships and creating a vibrant community for everyone," said John Sackett, RCU Foundation President. "We are honored to support this inclusive park that will ensure that community members from Prescott and beyond will have a place to gather and play for generations to come."
Construction for Fairy Wonderland Park is already underway. The first phase of custom build play equipment is installed. All three phases of the project are scheduled to be completed by the end of 2024.
About RCU Foundation
The RCU Foundation (Foundation) was established in 2012 to support organizations and initiatives in communities where Royal Credit Union operates in western Wisconsin and eastern Minnesota. The Foundation focuses on large-scale, capital projects that help build community and create the spaces where people come together. Focus areas include education, health, and the arts. The Foundation hosts the annual Rock the Riverfront-Charity Classic event in Eau Claire. Currently, it has awarded more than $7 million in grants. Contact foundation@rcu.org for more information.
About Royal Credit Union
Royal Credit Union is a federally insured credit union proudly serving over 270,000 Members in Minnesota and Wisconsin. Royal is driven by a core ideology built on a strong purpose and values. You can open an account or apply for a low-rate loan at Royal Credit Union if you live or work in 26 counties in western Wisconsin or 16 counties in Minnesota. Counties served in Wisconsin include Adams, Ashland, Bayfield, Barron, Buffalo, Burnett, Chippewa, Clark, Douglas, Dunn, Eau Claire, Jackson, Lincoln, Marathon, Pepin, Pierce, Polk, Portage, Price, Rusk, Sawyer, St. Croix, Taylor, Trempealeau, Washburn, and Wood. Counties served in Minnesota include Anoka, Carver, Chisago, Dakota, Goodhue, Hennepin, Isanti, Olmsted, Pine, Ramsey, Scott, Sherburne, Wabasha, Washington, Winona and Wright. A complete list of Member eligibility requirements is available on the Royal Credit Union website. To learn more about Royal, visit rcu.org or call 800-341-9911.