November 8, 2022
EAU CLAIRE, Wis. – Royal Credit Union (Royal) Board Member and RCU Foundation President, John Sackett, was honored with the 2022 Distinguished Director Award at the CUES Member Appreciation and Awards Event. The CUES Distinguished Director Award honors strong volunteers whose achievements have strengthened their credit union. Click to view the award presentation and acceptance speech.
Sackett is an advocate for the development of community credit unions and serves as a voice both locally and nationally for the important role directors play in the credit union organizational structure.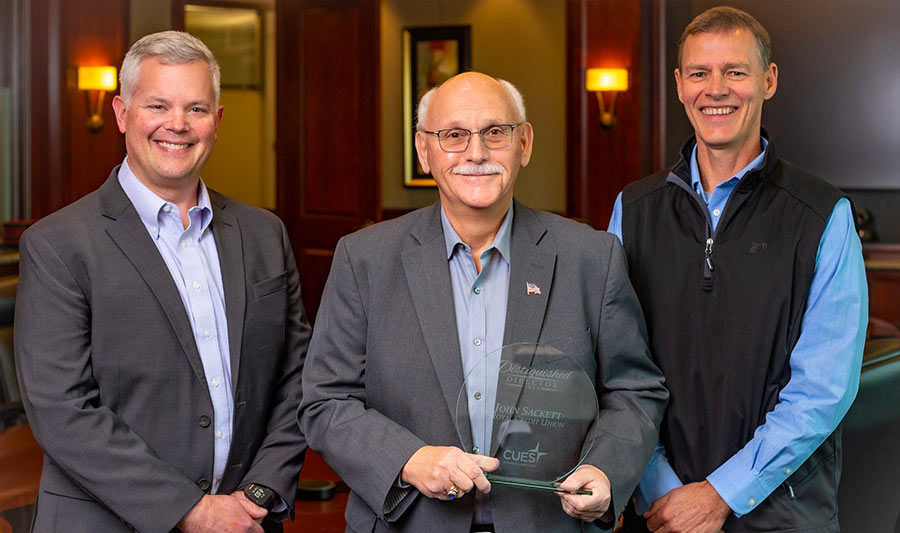 "It's extremely humbling to receive this honor from CUES and I appreciate being recognized for doing such purposeful work," said Sackett. "I believe in the credit union movement's "People Helping People" philosophy, and strategic imperative to establish financial well-being for all. My number one priority in my role as a director is to listen to what our Members need and then respond in a way that gives them access to financial services and solutions allowing them to live a better life."
Sackett has served on the Royal Credit Union Board of Directors since 1984. At the time, Royal had $80 million in assets, one office and 13 team members. Today, Royal has grown to over $4 billion in assets, 28 offices and 840 team members. In 2012, Sackett helped establish the RCU Foundation, and continues to serve as its president. The RCU Foundation has donated more than $7 million in grants for large-scale, capital projects that help build community and create the spaces where people come together.
Sackett also serves as a leader in the national credit union movement through his service on the Credit Union National Association Board of Directors and in his role as vice-chair of the National Credit Union Foundation Board.
About Royal Credit Union
Royal Credit Union is a federally insured credit union proudly serving over 270,000 Members in Minnesota and Wisconsin. Royal is driven by a core ideology built on a strong purpose and values. You can open an account or apply for a low-rate loan at Royal Credit Union if you live or work in 26 counties in western Wisconsin or 16 counties in Minnesota. Counties served in Wisconsin include Adams, Ashland, Bayfield, Barron, Buffalo, Burnett, Chippewa, Clark, Douglas, Dunn, Eau Claire, Jackson, Lincoln, Marathon, Pepin, Pierce, Polk, Portage, Price, Rusk, Sawyer, St. Croix, Taylor, Trempealeau, Washburn, and Wood. Counties served in Minnesota include Anoka, Carver, Chisago, Dakota, Goodhue, Hennepin, Isanti, Olmsted, Pine, Ramsey, Scott, Sherburne, Wabasha, Washington, Winona and Wright. A complete list of Member eligibility requirements is available on the Royal Credit Union website. To learn more about Royal, visit rcu.org or call 800-341-9911.
About CUES
CUES is the leading talent development solutions provider for credit unions in North America. We educate, develop and support credit union CEOs, executives, directors, and emerging leaders through partnerships with premier business schools, live and online events, digital learning, networking, and premium content. With over 39,000 members and growing, we measure success one leader at a time. Connect with CUES at CUES.org and on LinkedIn, Facebook, Twitter, and Instagram. For daily insights on issues impacting credit unions visit CUmanagement.com. Currency (www.currencymarketing.ca) is a credit union-focused marketing firm. Our unique programs—It's a Money Thing and CUES Emerge—focus on helping credit unions raise awareness, build relationships and foster financial empowerment with young adults.