August 23, 2021
EAU CLAIRE, Wis. – The RCU Foundation made a $150,000 gift to Westfields Hospital Foundation in New Richmond, WI. The hospital recently completed a kitchen and café remodel to improve healthy food options for patients, visitors, and staff.
The Rivers Café sponsored by RCU Foundation is a redesigned café space and expanded kitchen. The updated facilities are both beautiful and functional. "Our nutrition services staff can now prepare and cook fresh food for the hospital using locally sourced ingredients whenever possible," noted JoAnn Wrich, Director, Westfields Hospital Foundation. "We are grateful for the upgraded facilities and excited to continue advancing health through nutrition."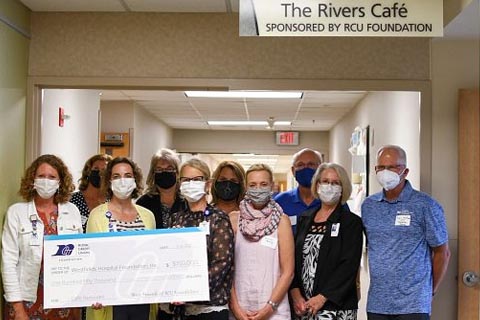 Westfields Hospital and Clinic has served the New Richmond, WI, community for more than 70 years. "Health care is a vital need in our communities, especially now, and the Foundation is proud to support Westfields Hospital," said John Sackett, President, RCU Foundation. "The updated kitchen and café will bring benefits to patients, staff, and visitors for many years to come."
Future kitchen and café offerings will include take-n-bake meals for staff to assist with work-life balance and nutrition classes for patients and community members.
About RCU Foundation
The RCU Foundation (Foundation) was established in 2012 to support organizations and initiatives in communities where Royal Credit Union operates in western Wisconsin and eastern Minnesota. The Foundation focuses on large-scale, capital projects that help build community and create the spaces where people come together. Focus areas include education, health, and the arts. The Foundation hosts the annual Rock the Riverfront-Charity Classic event in Eau Claire. Currently, it has awarded more than $6 million in grants. Contact foundation@rcu.org for more information.
About Royal Credit Union
Royal Credit Union is a federally insured credit union proudly serving over 230,000 Members in Minnesota and Wisconsin. Royal is driven by a core ideology built on a strong purpose and values. You can open an account or apply for a low-rate loan at Royal Credit Union if you live or work in 26 counties in western Wisconsin or 16 counties in Minnesota. Counties served in Wisconsin include Adams, Ashland, Bayfield, Barron, Buffalo, Burnett, Chippewa, Clark, Douglas, Dunn, Eau Claire, Jackson, Lincoln, Marathon, Pepin, Pierce, Polk, Portage, Price, Rusk, Sawyer, St. Croix, Taylor, Trempealeau, Washburn, and Wood. Counties served in Minnesota include Anoka, Carver, Chisago, Dakota, Goodhue, Hennepin, Isanti, Olmsted, Pine, Ramsey, Scott, Sherburne, Wabasha, Washington, Winona and Wright. Realtors in the state of Wisconsin or Minnesota are also eligible to join the credit union. Visit rcu.org or call Royal Credit Union at 800-341-9911 for more information.