October 14, 2021
Eau Claire, WI-Wisconsin Department of Corrections (DOC) Secretary Kevin Carr and Department of Financial Institutions (DFI) Secretary Kathy Blumenfeld joined leaders from Royal Credit Union, to observe financial literacy instruction the credit union is providing to men at Chippewa Valley Correctional Treatment Facility (CVCTF) in Chippewa Falls.
The credit union has been offering lessons in budgeting and financial management at CVCTF for two years. Royal Credit Union Board Chair Tom Huffcutt and the credit union's President and CEO Brandon Riechers joined the Secretaries to drop in on a lesson Wednesday morning, before speaking with some students who have either completed or are currently taking the course.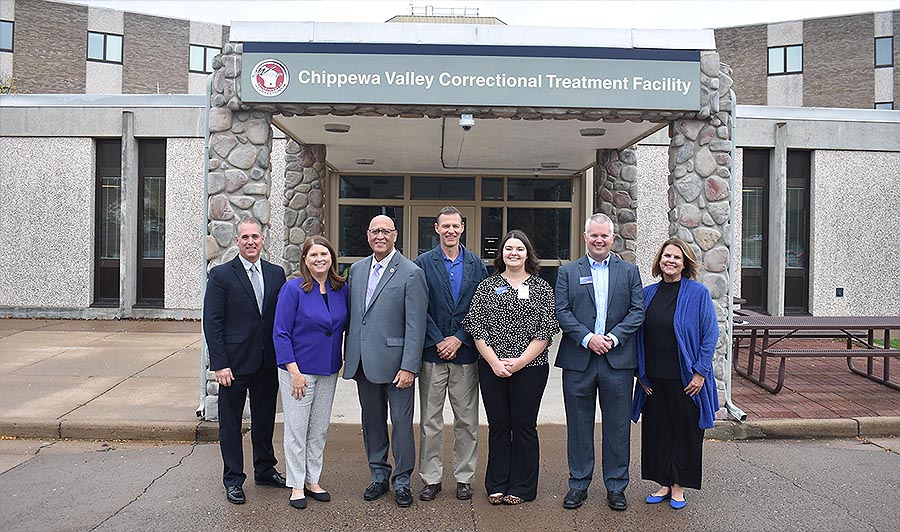 "Royal's correctional facility financial education program is designed to help individuals achieve financial well-being, and supports our core purpose which is to create a positive impact in the lives we touch," said Riechers. "We are proud to have provided financial education to more than 1000 people in the care of area correctional facilities and hope our program provides them with the tools they need to accomplish their financial goals."
"Financial literacy programs, such as this one developed by Royal Credit Union, focus on knowledge acquisition and skill development with the goal of helping people in DOC's care understand best practices in money management, like how to save money, build credit, and budget," said DFI Secretary Kathy Blumenfeld. "By providing financial literacy education, we can help these individuals learn a way to secure a better future for themselves and their families. Financial literacy has a way of paying itself forward across communities and generations."
Every year, about 9,000 people in DOC care return to their community, and roughly 65% of those at CVCTF have a year or less remaining on their sentence. Providing tools to help people achieve success once they return to their home and community is vital.
Darrin Cowser has been at CVCTF since June. He says he took the three-week course to learn better spending habits and improve his understanding of how to build credit.
"It's important to have a credit history. If you don't have a credit history no one is going to want to deal with you or try to help you make the big purchases," Cowser said. "I'm trying to figure out, when I go home, how I can build credit history and start, so when I get to those big purchases I could possibly buy a home, get a vehicle."
"This is a great example of state agencies and private businesses collaborating to reach a shared goal," said DOC Secretary Kevin Carr. "A better understanding of budgeting and financial management is important to anyone, and I'm glad those in our care here at CVCTF have a chance to receive this knowledge."
Royal Credit Union provides the curriculum and instruction for the program. Since it launched at CVCTF in 2019, Royal Credit Union and the DOC have been able to help 400 people before they returned to their community. There are currently 12 receiving instruction in the program.
In addition to the correctional facility financial education program, Royal Credit Union also operates 29 student-run credit union offices in schools, and has created multiple innovative financial education programs for people of all ages. For more information on Royal's financial education programs visit Financial Education Programs For All | Royal Credit Union (rcu.org).
About Royal Credit Union
Royal Credit Union is a federally insured credit union proudly serving over 230,000 Members in Minnesota and Wisconsin. Royal is driven by a core ideology built on a strong purpose and values. You can open an account or apply for a low-rate loan at Royal Credit Union if you live or work in 26 counties in western Wisconsin or 16 counties in Minnesota. Counties served in Wisconsin include Adams, Ashland, Bayfield, Barron, Buffalo, Burnett, Chippewa, Clark, Douglas, Dunn, Eau Claire, Jackson, Lincoln, Marathon, Pepin, Pierce, Polk, Portage, Price, Rusk, Sawyer, St. Croix, Taylor, Trempealeau, Washburn, and Wood. Counties served in Minnesota include Anoka, Carver, Chisago, Dakota, Goodhue, Hennepin, Isanti, Olmsted, Pine, Ramsey, Scott, Sherburne, Wabasha, Washington, Winona and Wright. Realtors in the state of Wisconsin or Minnesota are also eligible to join the credit union. Visit rcu.org or call Royal Credit Union at 800-341-9911 for more information.