October 8, 2020
After 36 years of devoted service to Royal Credit Union, Nancy McCauley is entering retirement. Throughout the past 36 years, Nancy has truly been a team member who has lived by Royal's core values. We wanted to share a little bit about Nancy's years with Royal to honor her and her service to our Members.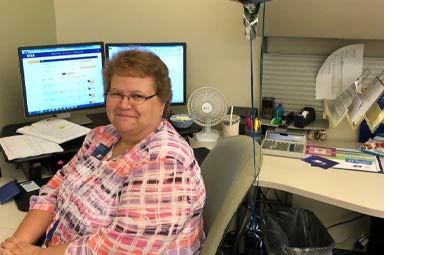 Nancy joined the Royal team in July of 1984 and has worked in the item processing, accounts payable and card services departments. Since 2000, Nancy has served our Members as an Electronic Payments Specialist. In her role, Nancy was responsible for providing product support to Royal team members and Members for all card products. Nancy also helped to process daily manual payroll, direct payments and payroll distributions while providing the highest level of service to internal and external Members.
While at Royal, Nancy wore many hats. Here are a couple roles Nancy took on;
Many years on the Suggestion Committee
Lead the debit/credit team in the conversion of computer systems
Nancy, who is lovingly known as Fancy Nancy to her EPS team, will be greatly missed. She was always available to help guide and develop new team members and was a wealth of knowledge. Her sunny disposition and eagerness to do the right thing for our Members is the legacy she will leave as she enjoys the next chapter of her journey.
"I have always felt very valued at Royal and will really miss the team I work with along with so many others I've gotten to know over the years" Nancy says. However, she is looking forward to road trips with her husband, hanging out with her grandkids and lots of sewing and quilting!
Because of team members like Nancy, Royal is able to serve our Members needs and uphold our core values. During Nancy's time she helped countless Members with their debit and credit card accounts. Nancy… Thank you for all you have done for Royal Nancy, we wish you a wonderful retirement!