Ruth Jalling is known for her bright smile, impeccable style, and outgoing personality. She has served members at our Chippewa Falls offices for the past 22 years, and on Tuesday, December 31, she is retiring from Royal Credit Union. As Ruth prepares to take the next step on her journey, we wanted to share how she has made a positive impact in the lives she's touched!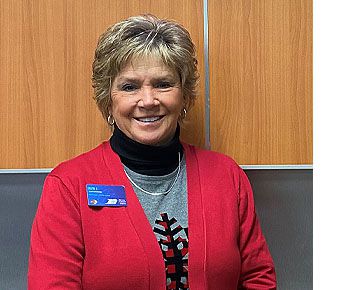 Ruth is a Teller Supervisor. She ensures daily operational success by coaching, mentoring, and training the teller team. Ruth also manages cash usage and handles member concerns. She worked her way up to the leadership position after starting as a part-time teller in 1997. Ruth has been an active community supporter helping with events like the Chippewa Falls Bridge to Wonderland Parade, June Dairy Days, and Oktoberfest.
Ruth says she has enjoyed getting to know Royal's Members, many on a first-name basis, and considers her fellow team members like family!
"I have enjoyed my job every single day," Ruth said. "For many years, I've spent more time with my RCU team members than I did with my family at home. They have seen me through ups and downs and have always been there for me. I will cherish the friends I have made over the years."
In retirement, Ruth is looking forward to spending more time with her husband, Jack, and ten grandchildren. She will also have more time to spend doing what she loves, including reading, walking, bike riding, and traveling.
Congratulations Ruth! Thank you for the positive impact you have made in the lives of our Members and team members. We appreciate your many contributions over the years and wish you the very best in your retirement.