After more than 23 years, Sharon Colburn is starting her retirement journey. Sharon started her career with Royal in May of 1999 and spent the last 22 years as the receptionist at the Eau Claire North location before moving, with her team, to the new Altoona office this past summer. Sharon's positive attitude is contagious, and it makes everyone around her smile. You could walk into the office during the worst snowstorm of the year, and she will still tell you what a beautiful day it is and that "there is nothing better."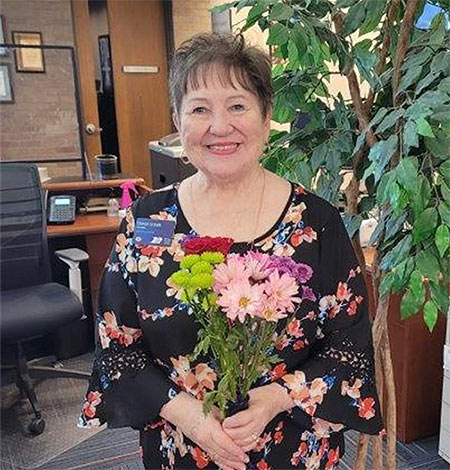 Members and team members from around the Chippewa Valley are known to stop into the office just to visit Sharon. She has the unique ability to make everyone feel like they are the most important person in the room, and she never forgets a face! In 2013, Sharon won the first Positive Impact Award at Royal. This award recognizes a team member who has truly gone above and beyond to make a lasting impact on Members, Team Members, or in the community. Sharon has also served as a Sunday school and vacation bible school teacher at her church. Sharon's dedication to our Members, the community and her ability to make a difference in the lives of others has not waned over the years.
In her retirement, Sharon plans to spend time with her husband Jerry, shopping, eating lunch with her friends, and playing bunco! "I will miss everyone at Royal. We truly have the best place to work and I have loved coming to work every day," shared Sharon. "The team members and Members are just so great."
Sharon is known for the way she treats people, how she makes them feel, and her ability to ensure everyone around her is having the "best day ever." Although days at the Altoona office won't be the same without her, we are excited for Sharon to spend more time enjoying life and doing all the things she loves.
Congratulations Sharon, you deserve all the best retirement!