Royal Credit Union's Vice President of Community Engagement, Vicki Hoehn, has been creating a positive impact in the lives we touch since 1982. Her passion for Royal is evident in all she does and her commitment to strengthening the communities we serve is exceptional. Today, after 38 years of dedicated service, Vicki is retiring from Royal.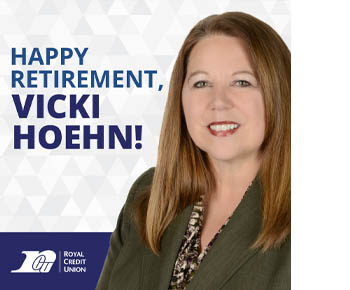 Vicki's story started with Royal Credit Union in 1981, when she worked the "RCU booth" at Randall's as an employee of the grocery store. A year later she joined Royal's Eau Claire North Office on Birch Street as a teller. She has spent the last nearly four decades contributing in many areas of our credit union. In her first few years with Royal she worked as assistant head teller, loan receptionist and research development assistant. She joined the leadership ranks as research and development manager in 1988. Supply and purchasing management were quickly added to her leadership responsibilities. In 1992, she was promoted to vice president, serving in roles over the years leading sales, membership development, and marketing. In 2014, Vicki became Royal's first VP of Community Engagement.
Vicki has been responsible for creating many of the programs that help Royal achieve our core purpose and that we tend to think of as business as usual today. Here are just a few highlights:
Royal Credit Union School $ense-creator-1993
Royal Volunteer program-creator-1993
RCU Charity Classic-creator-1995, expanded to include Rock the Riverfront-2017
Royal core values development-team lead-2012
Community Give Back Day-creator-2017

It's hard to name a major community effort or a non-profit organization Vicki hasn't touched in some way. Her dedication to the communities Royal serves and passion for making a difference in the lives of others is truly remarkable. Vicki recently completed her term as the president of the Confluence Council Board of Directors. She cut the ribbon at the grand opening for the Pablo Center and led the successful first full year of programming. In addition, she has served on the boards of the North Barstow/Medical Business Improvement District, Boys & Girls Club of the Greater Chippewa Valley, Clear Vision Eau Claire, and Downtown Eau Claire Inc. She has also been an active volunteer for the United Way, Big Brothers/Big Sisters, Eau Claire Area Chamber of Commerce, Friends of Sacred Heart Hospital, Reach, American Heart Association, Eau Claire Women's Network, and the Altoona Youth Hockey Association.
It is difficult for those of us who witness Vicki's level of engagement and generosity to fathom how any one individual has the energy and commitment to be so giving and selfless. There is no mistaking, however, that Vicki is driven by a deep and enduring passion to better the lives of others and make a lasting impact on her community. She has won multiple awards including the Wisconsin Governor's Financial Literacy Legacy Award, Credit Union Hero Achievement Award, Children's Legacy Outstanding Achievement Award, Eau Claire Area Chamber of Commerce Athena Award, and the ECRAC Individual in Support of the Arts Award. Earlier this year we presented Vicki with Royal's 2019 Impact Award, an award that is given to a Royal team member who has made an exceptional impact on Members, team members and/or the community.
In her retirement, Vicki plans to spend more time with her family. First on the list will be enjoying life with her husband, Gary, their grandson, Bradley and granddaughter, Charlie. She also plans to enjoy the outdoors including biking and spending time at the cabin up north! We are so proud to have Vicki and Gary's daughter, Nicole Frederick, as the manager of Royal's Chippewa Falls office locations, ensuring her legacy will live on at Royal Credit Union! Vicki is also excited to turn over the reins of the VP-Community Engagement role to her long-time community engagement team member, Jennifer McHugh.
Thank you, Vicki, for 38 years of service to Royal Credit Union. We wish you all the best in your retirement and are deeply appreciative for your numerous contributions over the years. We strongly believe if every community had a Vicki Hoehn, this world would be a better place!