To kick off fall festivities, Royal's Kid's Club members enjoyed an afternoon with Savin' Sammy at Mommsen's Harvest Hills Pumpkin Patch & Apple Orchard in Rice Lake, WI! Kid's Club Members and their families explored the challenging corn maze, met some furry friends at the petting zoo, and got to take home a free pumpkin!
Royal sponsors several events just for Kid's Club Members throughout the year in the communities we serve. This year we also hosted a drive-in movie at the Chippewa Falls YMCA, an afternoon visiting the animals at Fawn Doe Rosa Wildlife Park in St. Croix Falls, and a fun "Party in the Park" with Savin' Sammy in New Richmond. Keep an eye out for future Kid's Club events in your area. These events are free for Kid's Club Members and a guest. Invitations are sent via mail or email and event information is shared on our website, social media channels and in our quarterly Kid's Club newsletter.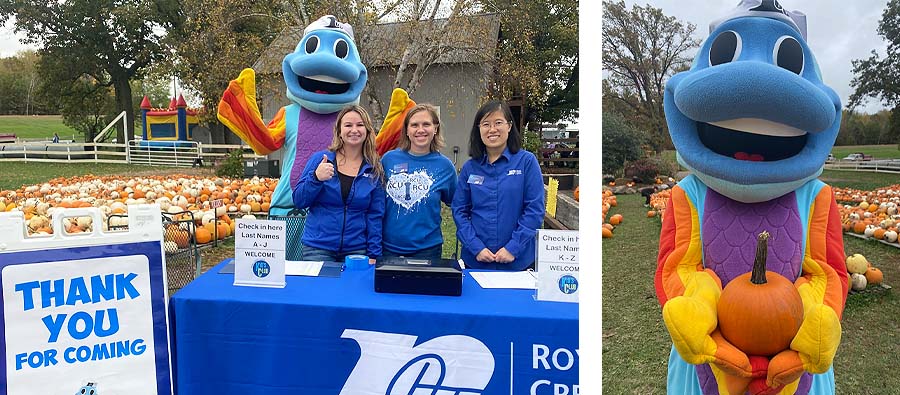 Want to be a part of Kid's Club? When a Member age 12 or younger opens a savings account with Royal, they are automatically enrolled in Kid's Club! The child then receives a welcome packet which includes a fun activity book, a stamp card and a savings passbook. They will earn a stamp for every deposit and a get to pick a prize from Savin' Sammy's treasure chest for every fourth deposit. Parents will also receive electronic newsletters with valuable education tools and activities to help teach money management in a fun and engaging way. Learn more about Kid's Club at www.rcu.org/KidsClub.