February 19, 2021
Eau Claire, WI – Annie Brose has been named a Board Member to the RCU Foundation Board of Directors. In this role, Brose will help the Foundation meet its core purpose to create a positive impact and support capital projects for the arts, education, and health in communities served by Royal Credit Union.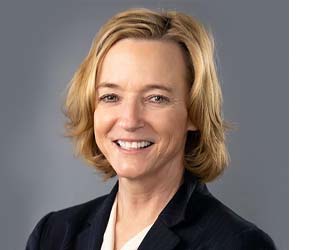 "I'm delighted to join the RCU Foundation Board and bring my perspective and insights about the St. Croix Valley," shared Brose. "I have been a Member at Royal Credit Union for more than a decade and look forward to working with the board to make a positive impact in the communities we serve."
Brose has been practicing law in Wisconsin and Minnesota for 30 years. In 2006, she joined Doar, Drill & Skow in New Richmond, WI, and practices in the areas of estate planning, probate, trust administration and business succession planning. Brose and her husband raised three sons in the St. Croix Valley and she has been active in the community, serving on youth sports boards and as an instructor for Junior Achievement and Art Adventure, a program bringing art from the Minneapolis Art Institute to elementary students.
The RCU Foundation makes capital gifts in communities served by Royal Credit Union across Western Wisconsin and Eastern Minnesota. "Annie will bring a valuable perspective since she is based in New Richmond and has connections within that community and the broader St. Croix Valley," noted John Sackett, RCU Foundation Board President. "The board strives to touch all of Royal's communities and Annie will help us broaden this reach."
Learn more about the RCU Foundation, including its annual fundraiser Rock the Riverfront, at rcu.org/foundation.
About RCU Foundation
The RCU Foundation (Foundation) was established in 2012 to support organizations and initiatives in communities where Royal Credit Union operates in western Wisconsin and eastern Minnesota. The Foundation focuses on large-scale, capital projects that help build community and create the spaces where people come together. Focus areas include education, health, and the arts. The Foundation hosts the annual Rock the Riverfront-Charity Classic event in Eau Claire. Currently, it has awarded more than $5 million in grants. Contact foundation@rcu.org for more information.
About Royal Credit Union
Royal Credit Union is a federally insured credit union proudly serving over 230,000 Members in Minnesota and Wisconsin. Royal is driven by a core ideology built on a strong purpose and values. You can open an account or apply for a low-rate loan at Royal Credit Union if you live or work in 26 counties in western Wisconsin or 16 counties in Minnesota. Counties served in Wisconsin include Adams, Ashland, Bayfield, Barron, Buffalo, Burnett, Chippewa, Clark, Douglas, Dunn, Eau Claire, Jackson, Lincoln, Marathon, Pepin, Pierce, Polk, Portage, Price, Rusk, Sawyer, St. Croix, Taylor, Trempealeau, Washburn, and Wood. Counties served in Minnesota include Anoka, Carver, Chisago, Dakota, Goodhue, Hennepin, Isanti, Olmsted, Pine, Ramsey, Scott, Sherburne, Wabasha, Washington, Winona and Wright. Realtors in the state of Wisconsin or Minnesota are also eligible to join the credit union. Visit rcu.org or call Royal Credit Union at 800-341-9911 for more information.