For the first time since 2020, Royal is back in person with our signature Test Drive® Reality Fair events! We hosted two versions of our event this spring impacting over 400 students.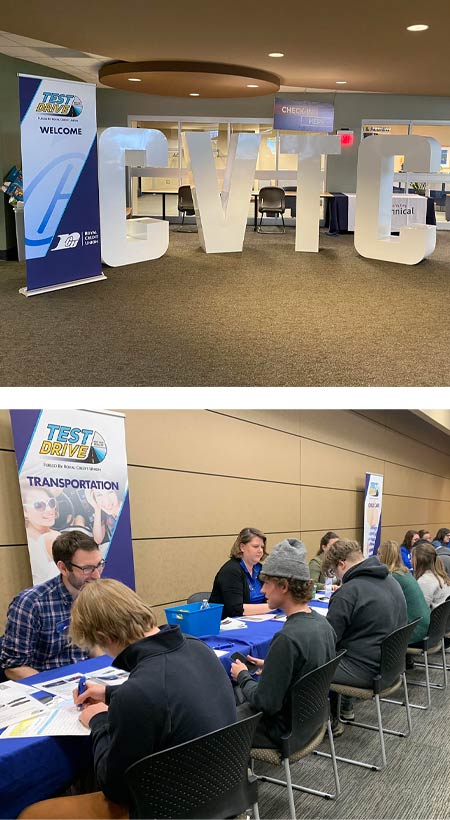 Test Drive®…Next Stop Reality is a full day in-person event where students research their desired future career and budget using that average monthly salary. Students visit 22 stations and over 80 community members volunteer their time to make this event happen. This version of Test Drive was hosted at Chippewa Valley Technical College in Eau Claire, WI on Friday, April 22. Over 300 students attended from six schools in Eau Claire County.
Test Drive Mobile® is an in-person event where students use a hands-on app to complete purchases at 11 different stations. This version appeals to teens as a digital-focused generation. Many of these students already manage their finances using mobile banking apps or will soon in the future. Test Drive Mobile ® was held on Wednesday, May 11 at Boyceville High School in Boyceville, WI. A total of 100 students participated in this event and 30 community members volunteered.
One Eau Claire student said "I learned that life is not always going to be easy, but learning how to properly manage your money to fit your living situation is very important." Through the simulations, students are tasked with paying for various expenses the average adult is faced with each month. Through their participation, students gain a better understanding of what it takes to make it on their own and prepare for the future.
To learn more about Test Drive®…Next Stop Reality and the other versions we have available visit rcu.org/TestDrive or email testdrive@rcu.org.