June 5th, 2020
Eau Claire, WI – Royal Credit Union received a $20,000 COVID-19 Relief Grant from the Federal Home Loan Bank of Chicago. Funds will be used to support non-profits in Royal's service areas in Wisconsin to respond to the COVID-19 pandemic. Royal will also contribute funds to maximize the positive impact for non-profits who are serving vulnerable populations and those focused on economic recovery efforts.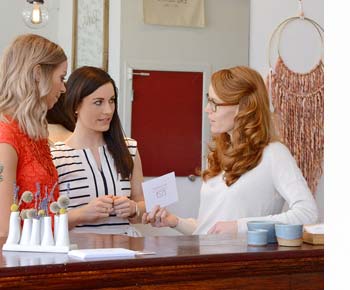 Red Letter Grant and their Covid-19 Relief Fund will support existing women-owned small businesses that have not had access to other federal or state aid programs. Rebecca Cooke, Executive Director of Red Letter Grant, noted, "Royal continues to set a standard for what it means to show up for small business in our community. We're so grateful to be able to use these funds to give existing women-owned businesses a hand-up during this crisis and provide a support system while they get back on their feet."
Another local group, Workforce Resource Inc., has a mission to empower people through employment. They will be a key collaborator with the Eau Claire COVID-19 Economic Recovery Task Force and also serve 16 counties in West Central and Northwest Wisconsin. "Workforce Resource is excited to partner with Royal to help our community by providing resources to people on managing their household finances during these challenging times," commented Deb Leslie, CEO, Workforce Resource Inc.
Also, through the RCU Foundation and its Rock the Riverfront fundraiser, three charity partners will benefit: Family Support Center of Chippewa Falls, National Alliance on Mental Illness Chippewa Valley, and New Horizons Shelter and Outreach Centers in Whitehall. These non-profits work to reduce domestic violence, improve mental health, and support families—all critical needs that have been heightened during the global pandemic.
About Royal Credit Union
Royal Credit Union is a federally insured credit union proudly serving over 220,000 Members in Minnesota and Wisconsin. Royal is driven by a core ideology which is built on strong purpose and values. You can open an account or apply for a low-rate loan at Royal Credit Union if you live or work in 26 counties in western Wisconsin or 16 counties in Minnesota. Counties served in Wisconsin include Adams, Ashland, Bayfield, Barron, Buffalo, Burnett, Chippewa, Clark, Douglas, Dunn, Eau Claire, Jackson, Lincoln, Marathon, Pepin, Pierce, Polk, Portage, Price, Rusk, Sawyer, St. Croix, Taylor, Trempealeau, Washburn, and Wood. Counties served in Minnesota include Anoka, Carver, Chisago, Dakota, Goodhue, Hennepin, Isanti, Olmsted, Pine, Ramsey, Scott, Sherburne, Wabasha, Washington, Winona and Wright. Realtors in the state of Wisconsin or Minnesota are also eligible to join the credit union. Visit rcu.org or call Royal Credit Union at 800-341-9911 for more information.
About Federal Home Loan Bank of Chicago
The Federal Home Loan Bank of Chicago is offering a COVID-19 Relief Program consisting of zero-rate advances and grants to support all of its member institutions and the communities they serve as they respond to the COVID-19 pandemic. The COVID-19 Relief Program opened on Monday, April 27, with funding available through Friday, May 22. For more information visit fhlbc.com.