September 27, 2022
EAU CLAIRE, Wis. – On October 20, 2022, credit unions and their Members around the world will celebrate International Credit Union (ICU) Day®, an annual event to highlight the credit union movement's impact and achievement. The theme of ICU Day 2022 is "Empower Your Financial Future with a Credit Union."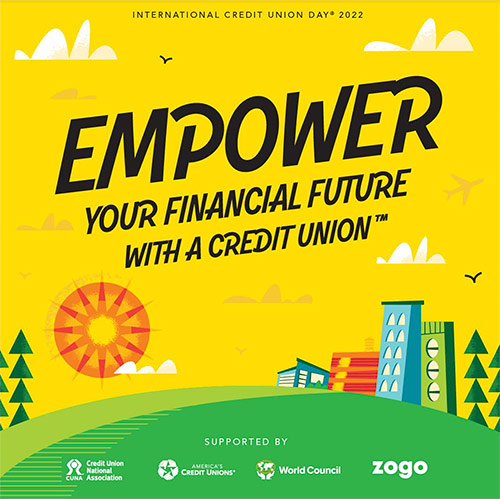 ICU Day highlights the many ways that credit unions across the world empower Members to improve their financial health and well-being. Royal Credit Union (Royal) is celebrating by holding drawings in all 26 offices for Empowerment Gift Baskets from October 14 to October 20. These exclusive baskets include tools to encourage financial planning, organization, and even have some extra fun items to help around the house. One basket winner will be selected in each office on October 21. On ICU Day, October 20, Royal will offer anyone visiting an office the chance to win prizes by answering trivia questions.
Royal invites Members and community members to any of our offices during this time to and celebrate ICU Day.
About Royal Credit Union
Royal Credit Union is a federally insured credit union proudly serving over 270,000 Members in Minnesota and Wisconsin. Royal is driven by a core ideology built on a strong purpose and values. You can open an account or apply for a low-rate loan at Royal Credit Union if you live or work in 26 counties in western Wisconsin or 16 counties in Minnesota. Counties served in Wisconsin include Adams, Ashland, Bayfield, Barron, Buffalo, Burnett, Chippewa, Clark, Douglas, Dunn, Eau Claire, Jackson, Lincoln, Marathon, Pepin, Pierce, Polk, Portage, Price, Rusk, Sawyer, St. Croix, Taylor, Trempealeau, Washburn, and Wood. Counties served in Minnesota include Anoka, Carver, Chisago, Dakota, Goodhue, Hennepin, Isanti, Olmsted, Pine, Ramsey, Scott, Sherburne, Wabasha, Washington, Winona and Wright. A complete list of Member eligibility requirements is available on the Royal Credit Union website. To learn more about Royal, visit rcu.org or call 800-341-9911.