Card Management is a feature of Royal Credit Union's mobile app and online banking that lets you easily manage all of your Royal payment cards. You can use Card Management to manage your Royal debit card, credit card, Health Savings Account (HSA) card, or ATM card. At this time, Card Management is available only for Royal Members who use personal online banking and our personal mobile app. This page includes information about how to access the Card Management feature and the various card management options.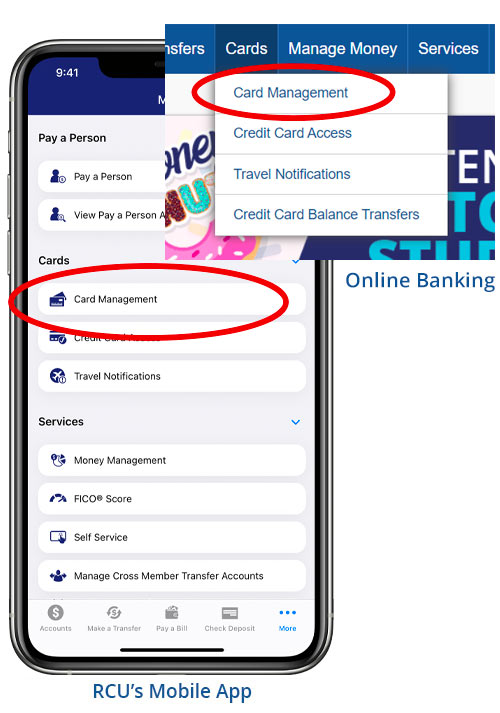 Getting To Card Management
To access the card management feature:
In Royal's personal online banking system on the web, log in and open the Cards menu. Then select Card Management.
Or, in Royal's mobile app, log in and go to the More menu. Then, select Card Management under the Cards section.
You'll see a listing of all the payment cards you can manage. Tap a card to see more options. (If you have just one card, you'll see the options for your card right away.)
You can also use the link below to jump directly to the Card Management feature after you log in: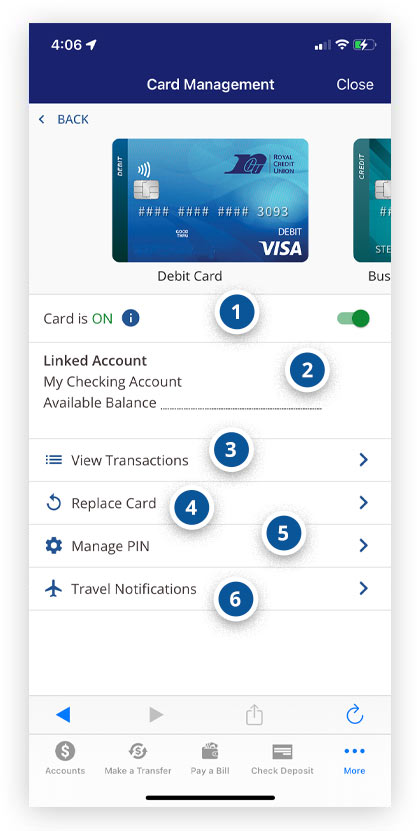 Turning Your Card On & Off
This option allows you to quickly "freeze" or turn off your card. When turned off, transactions cannot be made with your physical card. (Electronic transactions made with the card number or a digital wallet will still be able to be made.) This option isn't available for all cards.
Linked Account Information
The Linked Account section displays the account information for the Royal account associated with the card. It also shows the Available Balance.
Viewing Card Transactions
Selecting View Transactions will show you a listing of recent transactions made with that specific physical card. For example, if your checking account has two debit cards linked with it, only the transactions made with the selected debit card will be shown. Transactions made using your routing and account number or a digital wallet and not your card will not appear in this list. (You can see a full listing of all transactions on an account from the Accounts screen.)
Replacing A Card
Selecting this option allows you to replace your card. You can choose from various replacement reasons, including stolen cards, lost cards, or damaged cards. Select the reason that applies to you and you'll see detailed information about the replacement process.
Managing A PIN
This option provides instructions on how to manage your PIN for certain card types. For security reasons, you cannot change your PIN directly within the Card Management feature.
Travel Notifications
This option allows you to submit your travel plans if you're planning to travel outside your normal spending area.